A Complete Guide To Foil Faced Insulation: Types, Benefits & Installation Tips
Did you know that foil faced insulation can reflect up to 95% of heat in your home, office, warehouse or storage space?
Without proper insulation, buildings are exposed to temperature fluctuations, condensation, mold, mildew and more.
Foil faced insulation can be applied in numerous areas to offer protection from outside elements, from pole barns and metal buildings to attics and crawl spaces.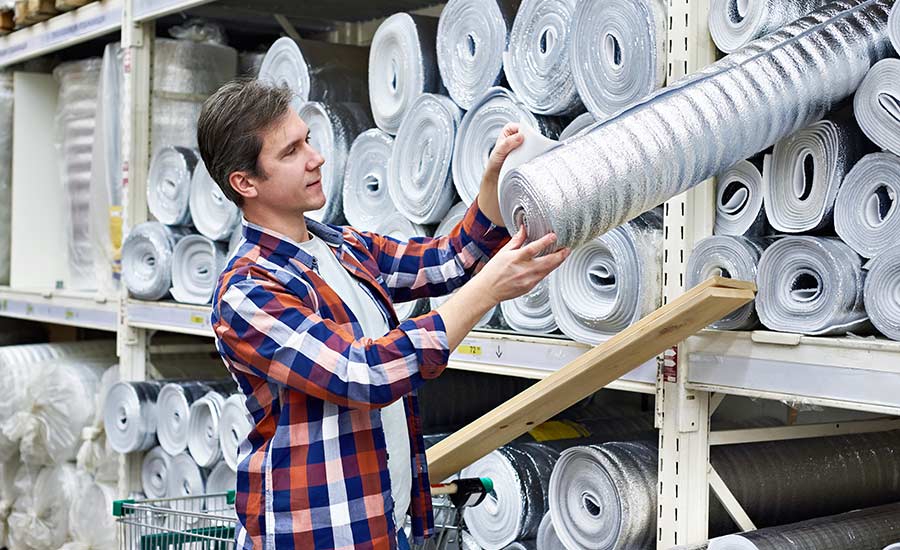 We'll explain the most common types of foil faced insulation, plus offer benefits and tips for the installation process.
Looking for foil faced insulation?
Check our best deals!
What Is Foil Faced Insulation?
Foil faced insulation, often referred to as reflective insulation, is an insulation material that has reflective foil on at least one side, typically made of aluminum or aluminized polyester.
The foil layer reflects heat and prevents it from moving to the other side of the insulation material. In other words, foil faced insulation acts as a barrier between the inside of the building and the environment outside.
The ability of this type of insulation to reflect heat makes it especially valuable in climates that experience extreme temperatures. It can help preserve the heat in your home during the winter and prevent outside heat from entering your home in the summer.
Types Of Foil Faced Insulation
The most common types of foil faced insulation include foil faced fiberglass, foil bubble wrap insulation, Prodex and foil rigid insulation panels.
When you choose insulation for your project, you should always pay attention to its R-value.
An R-value is an index that measures the ability of the insulation material to block heat transfer. The higher the R-value, the more effective insulation is against heat resistance.
Let's look at each type of foil faced insulation, plus their characteristics and what they're typically used for.
Foil Faced Fiberglass Insulation
At Insulation4less, our foil fiberglass vinyl insulation is made of a ¼-inch fiberglass core, one layer of 99% pure aluminum and one layer of durable white scrim-reinforced facing material.
Foil fiberglass vinyl insulation provides excellent thermal performance.
Foil fiberglass vinyl insulation can be used for both commercial and residential applications, whether you are retrofitting or insulating new construction.
When retrofitting, you can insulate an uninsulated building or replace insulation because it is old and damaged
For new construction, you can apply insulation during the building process
When used in retrofitting, compact roll sizes make the installation process fast and easy. In new applications, splices are quickly and easily made and this eliminates the aggravation of ordering custom-cut roll lengths.
Unlike many other types of insulation, foil fiberglass vinyl insulation has an encapsulated fiber core that prevents skin irritation when you come in contact with it.
When you apply foil fiberglass vinyl in commercial structures, it can reduce energy bills and prevent the outside weather from affecting your indoor environment. Foil fiberglass vinyl is the perfect insulation choice in many Southern states specifically, where 3" or 4" faced fiberglass insulation is typically used.
Foil faced insulation rolls are compact, thin and lightweight, which makes the installation process quick and easy. It provides a white finish and a smooth, clean, interior appearance.
At Insulation4Less, our foil fiberglass vinyl insulation comes in two sizes. The 4 ft x 125 ft roll is enough to insulate an area of 500 sq ft, while the 6 ft x 125 ft roll covers 750 sq ft.
Foil Bubble Wrap Insulation
Foil bubble wrap insulation consists of either a single layer or double layers of encapsulated air bubbles pressed in between sheets of foil.
Foil bubble insulation comes in two different types. The external layers can include two surfaces of metalized, low-emissivity surfaces (bubble reflective insulation) or one metalized low-emitting surface and one layer of white polyethylene (bubble white poly).
Bubble reflective insulation serves as a vapor barrier and provides a thermal break. The two metalized surfaces reflect up to 96% of radiant energy.
Bubble white poly insulation acts as a vapor retarder and provides a thermal break. We recommend this type especially in under concrete applications because it blocks moisture, toxic gases and pests from entering your home through the soil.
Prodex
At Insulation4Less, Prodex is our most sought-after type of insulation, and for good reason!
It contains two foil surfaces. One is a high-thermal reflectance one while the other represents a low emittance reinforced reflective foil. In between there is a closed-cell polyethylene foam center.
Thanks to its composition, Prodex is extremely durable and stable. It has a rippled surface that facilitates airflow and serves as an efficient vapor barrier.
Prodex prevents 97% of radiant heat transfer and is resistant to fire and compression.
It is light, easy to work with and seals well around nails, which makes it a preferred option for both commercial and residential applications.
The foil surface of Prodex helps prevent rodents, bugs and birds from entering your home or structure and nesting. It's also resistant to mold and mildew, which helps ensure a healthy environment inside your home.
Foil Rigid Insulation
Foil rigid insulation is made of closed cell polyisocyanurate foam and aluminum foil facers.
Lightweight and easy to handle, it has high thermal values and acts as barrier against air and weather.
Thanks to its rigid structure, this type of insulation prevents sagging and uninsulated pockets, which keeps the insulated area enveloped on all sides to help guarantee its efficiency.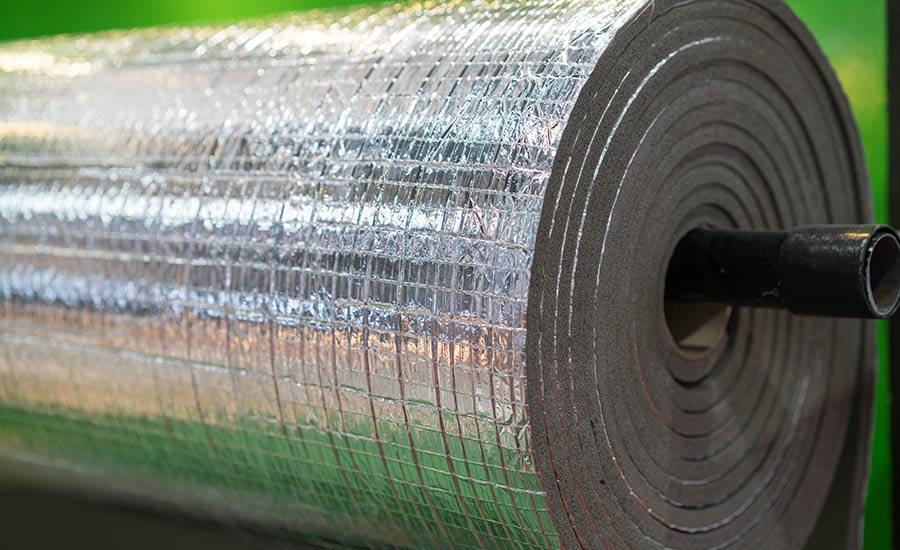 Foil rigid insulation can be used in both commercial and residential applications. Commercial use covers brick and concrete wall lining, suspended slabs, suspended ceilings, sheds, garages and more.
Residential applications extend to brick veneer lining, external cladding, underfloor insulation, cathedral roof insulation and more.
The Benefits Of Foil Faced Insulation
Thanks to the presence of foil in its structure, foil faced insulation is known to prevent heat transfer and contribute to a more energy-efficient environment in your home, among other benefits.
This type of insulation also:
Improves thermal performance
Repels termites and other pests
Blocks toxic gases like radon
Reduces the potential for ice dams
Allows a clean and simple installation process
Does not require special equipment
Does not require protective clothing or gloves during the installation process
Provides soundproofing
Is lightweight
Is environmentally friendly, thanks to the natural decrease in heat transfer through the foil surfaces
Where To Use Foil Fiberglass Vinyl Insulation
Foil fiberglass vinyl insulation can be used for retrofitting or new construction, in both commercial and residential buildings. Areas to use it include:
Metal buildings
Ceilings
Attics
Crawl spaces
Knee-wall areas
Pole barns
Quonset huts
Home and building structures such as floors and basement walls
House wrap
Pipe wrap
Duct wrap
Computer room linings
Medical room linings
Heat-sensitive storage room linings
Wherever you choose to apply foil fiberglass vinyl insulation, it will ensure dry, condensation-free spaces, perfect for living, working or storage areas.
Need high-quality foil fiberglass vinyl insulation? Request a quote!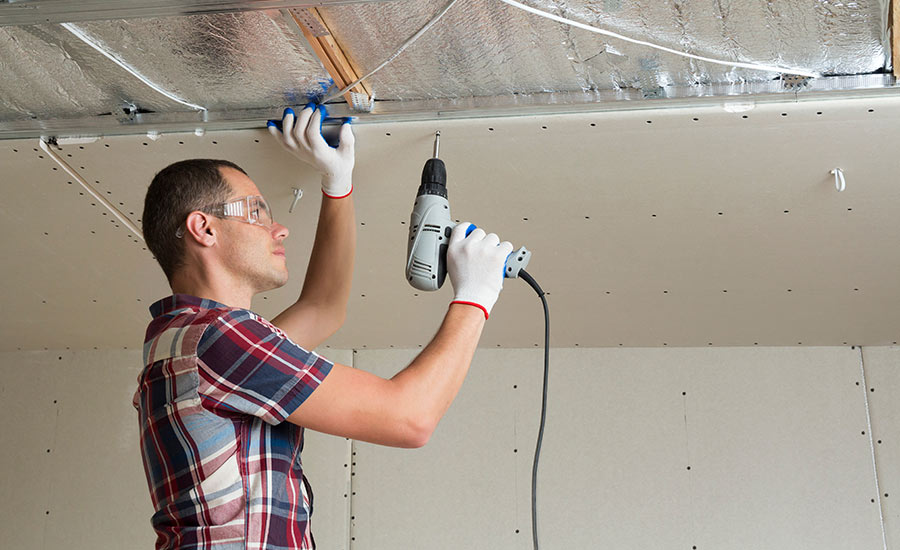 Installation Tips For Foil Fiberglass Insulation
To ensure your insulation is installed correctly, you can hire a professional insulation company to handle all the heavy lifting, from start to finish, then sit back and enjoy your newly insulated structure.
If you decide to go it alone, stick to these helpful tips:
Always leave a ¾ inch layer of air on at least one side of the insulation. This is known as "dead airspace" and serves to trap the air within, which provides an additional insulation layer and increases the R-value.
For optimal results, combine your foil faced fiberglass insulation with other insulation options. This will provide extra protection for your home and you will benefit from the advantages of each of the insulation type you use.
Make sure your insulation envelops the building tightly and is sealed to prevent air transfer and draughts.
Foil Faced Insulation: Your Solution To A Comfortable And Energy-Efficient Environment
Foil faced insulation can be a great solution to numerous indoor problems like extreme temperatures, moisture, condensation, toxic gases, mold and mildew. It can also protect your home from rodents, bugs, birds, excessive noise and even harsh weather.
As your trusted insulation experts, we highly recommend Prodex for your retrofitting and new construction projects, whether commercial or residential. It serves as an all-in-one solution that combines the benefits of all insulation types to increase your home's value, improve indoor living conditions, cut down on energy costs and more.
Contact our experts and we'll help you find the best type of insulation for your project.
Not sure which type of insulation to use?
Contact us!