How To Insulate A Garage: A Step-By-Step Guide To Insulating Garage Walls, Ceiling, Door And Floor
The annual cost of heating an average two to two-and-a-half car garage in the United States ranges between $600 and $1,500, depending on whether your heater is gas or electric.
While heating equipment can certainly help keep your garage warm, insulating your garage is another way to improve temperature control and keep the cold air out.
We'll share a step-by-step guide on how to insulate a garage, from the walls and ceiling to the door and floors, and explore the most common types of insulation.
Need help insulating your garage? Contact us!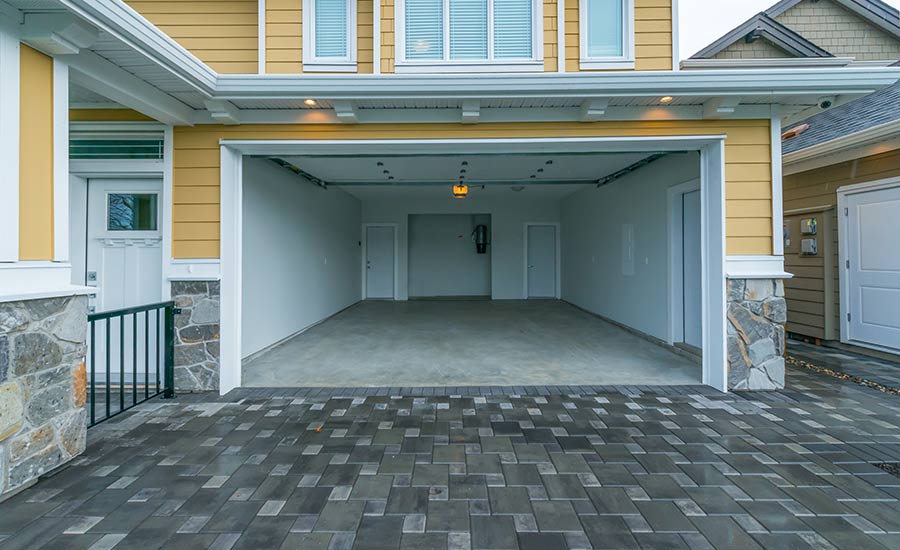 Types Of Garage Insulation
The most common types of garage insulation include rigid foam, fiberglass, cellulose, spray foam, radiant barriers and reflective insulation such as Prodex.
Let's compare their characteristics, advantages and disadvantages.
Rigid Foam Insulation
Rigid foam insulation is typically available in 4 x 8-foot sheets with a thickness between 0.5 and 4 inches. It has a high R-value, is durable, resistant to moisture and noise, and DYI friendly.
Rigid foam insulation is often recommended for insulating thin garage walls and doors.
However, it is not recommended for thick walls or floors. It is too airtight, which means it does not allow walls to "breathe," and this can negatively affect the quality of air inside. It also isn't pest-resistant.
Fiberglass Insulation
Fiberglass is one of the cheapest types of insulation for your garage. It's available in two forms:
Bats and blankets, which fit the floor and ceiling joists as well as the wall studs
Loose fill fiberglass, which are blown in or poured in manually to fill cracks, gaps and holes in walls and ceilings
Fiberglass is affordable, easy to install and ideal for DYI garage projects.
However, if it's not installed properly, it can accumulate moisture, cause skin, eye and lung irritation, and be a fire hazard.
Fiberglass insulation that has a plastic film on top can help keep out dust and provide a clean, polished look.
Cellulose
Cellulose insulation is made up of chemically treated recycled paper. It is fire-resistant and eco-friendly.
It is loose-fill insulation, which makes it ideal for cavities and gaps on your finished garage ceiling and walls. However, cellulose is costly and can lose its efficiency over time, leading to a decrease in its average R-value of 3.2 per inch.
Spray Foam Insulation
If you plan to use your garage as a living space, spray foam is a good option because it has a high R-value, fits perfectly in cracks and gaps and is resistant to pests.
It's also a good choice for air sealing to prevent air from moving from inside to outside your garage and vice versa.
However, spray foam is costly, may shrink over time and is difficult to install without the help of professionals.
Prodex
Prodex is a reflective insulation made of reinforced reflective foil and a closed-cell polyethylene foam center.
It is ideal for garage insulation because it prevents a number of issues, including heat, cold, condensation, mold, mildew and noise.
It is durable, light, easy to transport and install, and can help reduce your energy bills by regulating the temperature in your garage.
Planning to insulate your garage? See our product list!
The Best Garage Insulation: Prodex
Our recommendation for the best garage insulation is Prodex, a revolutionary all-in-one solution for condensation, temperature extremes, noise, mold and mildew, rodents and bugs.
It combines all the advantages of other types of insulation, plus, it is:
Resistant and durable
Able to control heat gain and heat loss
Able to act as a vapor and air barrier
Fire resistant
Not affected by humidity and compression
Resistant to mold and mildew
Resistant to rodents, bugs and birds
Able to seal well around nails to block leaks
Resistant to noise
Able to optimize energy bills
At Insulation4Less we offer a variety of Prodex for insulating your garage walls, door, ceiling and floor.
Choose from Prodex 48 Inch, Fast Action with an additional adhesive line, 72 Inch, 10M with cuts on the edges to overlap rolls, and more.
The installation process with is fast and DYI friendly.
Considering Prodex? Find our best deals!
Benefits Of Garage Insulation
A well-insulated garage can easily be turned into a temperature-controlled home office, workshop, storage or gym area.
Even if you plan to use your garage for storage, insulation can create a dry and secure place to store your tools, temperature-sensitive paints and more.
The benefits of insulating your garage include:
Temperature control: insulation keeps heat from entering your garage in the summer and escaping in the winter
Optimization of energy consumption and lower bills, especially if the garage is attached to your home
Protection from humidity and rust
Increased comfort
Increased resale value for your home
Soundproofing, especially if you live in a noisy area or you use power tools or machines in the garage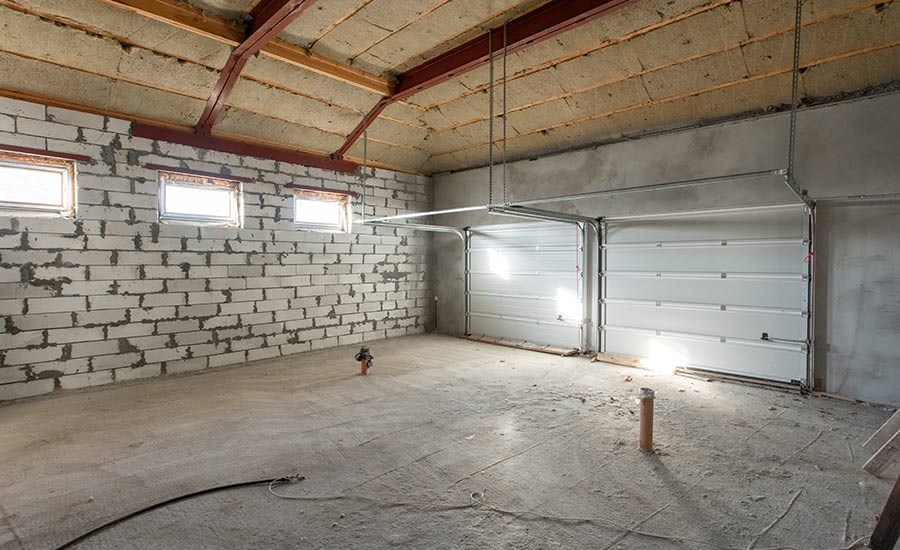 How To Insulate A Garage: Equipment Checklist
Depending on the type of garage insulation you choose, you may need different tools for installation. Here are some of the most common items that may be on your checklist:
Insulation of your choice
Ladder/scaffolding
Utility knife
Staple gun
Sealant gun
Screwdriver set
Measuring tape
Drywall screws
Utility screws
Drill driver
Hammer
Vapor barrier
Expanding foam
Retainer pins
Plywood or drywall
Weatherstripping
Edging strips
Face mask
Eye goggles
Gloves
Buying a fully insulated garage door can be costly, but insulating your door after it's installed can help improve the temperature control in your garage, among other benefits.
One of the most common ways to insulate a garage door is to use reflective foil rigid boards.
The process of insulating a garage door is tricky because you can apply only a thin insulation layer and there are no frames where the insulation can be firmly attached. To keep it in place, you need adhesive retainer pins.
To insulate a garage door:
Use a cleaning spray to clean your garage door panels.
Measure the height and width of the door panels.
Cut your selected insulation according to the dimensions.
Mark 12 inches from the edge of the panel and midway between the horizontal rails.
Apply and press the retainer pin in the panel.
Use two retainer pins for each panel.
Put the insulation on the panel and push it against the pin.
Push the pin cap over the pin, repeating the action on all panels.
Apply the weather stripping over the insulation surface and use nails to secure it.
Unfold the bottom seal and apply a new vinyl seal.
Test your door.
Let's look at how to insulate a garage door with Prodex.
The equipment checklist is simple: Prodex Garage Door Insulation Kit or any Prodex roll, a utility knife and a measuring tape.
Measure the door panels.
Cut insulation into pieces that match the size of the door panels
Use double-sided adhesive tape on the edges of the door panels.
Use double-sided tape to attach the insulation.
Use reflective tape on loose corners or edges.
Garage Ceiling Insulation
Most of the heat in your garage is lost through the ceiling. Insulating the ceiling can help you retain a warm garage in winter months by reducing heat loss.
To insulate a garage ceiling:
Use a ladder or scaffolding. If possible, ask a friend or a family member to help you out.
Before starting with installation, put baffles into the eave space to ensure good ventilation and moisture protection.
Measure the length and width of your garage ceiling. Multiply the length times the width to get a measurement of the entire area.
Measure the distance and the depth between the joists (typically, they are 8-10 inches deep).
Prepare the insulation pieces according to the measurements.
Install your garage insulation.
Staple it with a staple gun.
Fill in the gaps with expanding foam.
Cover the ceiling with plywood or drywall.
Typically, if your garage is separated from the rest of your home, it may not be insulated.
If you want to use your garage as a workshop, storage or hobby area, we recommend that you insulate the garage walls to maintain temperature control.
Fiberglass foam is one of the most common types of insulation for garage walls.
To insulate garage walls:
Use a hammer and a screwdriver to remove screws and hooks from the walls.
Remove the wall covering, if any. Clean and prepare the area for applying insulation.
Check your walls for holes, cracks and gaps.
Cover the area with a sealant.
Let the sealant dry before starting the installation process.
Apply fiberglass insulation.
Cut the insulation to fill in the gaps between the wall studs.
Staple a vapor barrier over the insulation to avoid moisture accumulation.
Insulating your garage floor can help make it more comfortable and energy-efficient.
To insulate a garage floor:
Use a vapor barrier to cover the floor. This will prevent the accumulation of moisture.
Place rigid foam insulation panels on top of the vapor barrier. Cut the pieces according to the floor measurements.
Cover the insulation layer with plywood sheets. Apply them perpendicular to the foam panels to avoid aligning the plywood seams with the foam seams.
Leave a distance of ¼ inch between the panels.
Leave a gap of ½ inch around the perimeter to allow plywood expansion and seasonal contraction.
Apply a second layer of plywood.
Attach the two plywood surfaces with utility screws.
Smoothen the area between the flooring and the driveway to ensure easy access into the garage.
Use tiles or mats to seal the floor.
Coat the garage floor with epoxy or paint the plywood surface.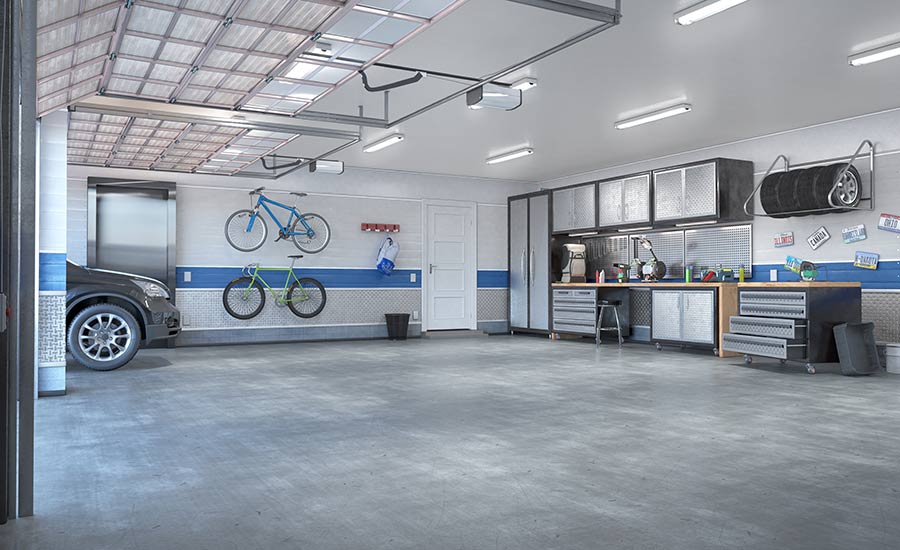 How To Insulate A Garage: Things To Remember
To ensure your insulation is installed properly, keep in mind:
If you use fiberglass, don't forget to wear a mask to protect your eyes, skin and lungs from the irritating particles.
If you use blown-in or spray insulation, put on protective eyewear.
Use a scaffolding for maximum safety, if you insulate the walls and ceiling of your garage.
Apply a vapor barrier before applying your insulation. Due to its porous nature, concrete has the ability to transfer moisture quickly and this can damage the insulation later.
Seal all cracks, holes and gaps before you start insulating. This will prevent moisture penetration and damage as well as block mold growth.
Remove all hanging objects to avoid damage to the insulation on the garage walls.
Don't cover the electrical boxes on your garage ceiling.
Don't fix the insulation too tightly around the electrical boxes.
If you use fiberglass on your garage ceiling, leave 1½ inch of air space between the underside of the wood roof sheathing and the insulation. This will facilitate the vapor to dry out and prevent mold growth.
Ensure a distance of three to five inches between the lights and installed insulation to minimize fire risks.
Use weather stripping to seal the windows, garage door and door frame.
Have questions about garage insulation? Contact us!