Bubble Wrap Insulation: What, When, Where, Why & How
As many genius discoveries are, bubble wrap insulation was discovered by mere accident when engineers sealed two plastic shower curtains and the air was trapped between them.
Today, this is one of the most widespread insulation materials due to its low cost, flexibility and ease of installment.
Looking for insulation for your project? We'll cover everything you need to know about bubble wrap: the what, when, where, why and how.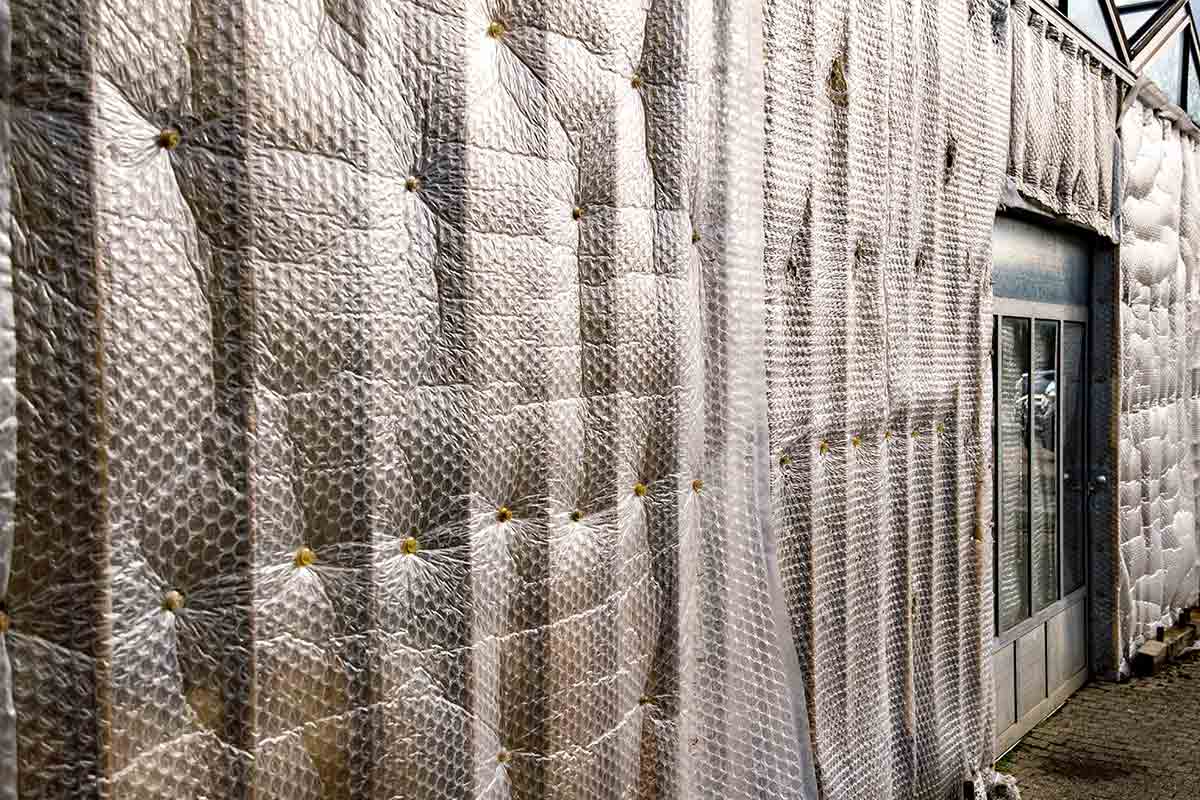 What Is Bubble Wrap Insulation?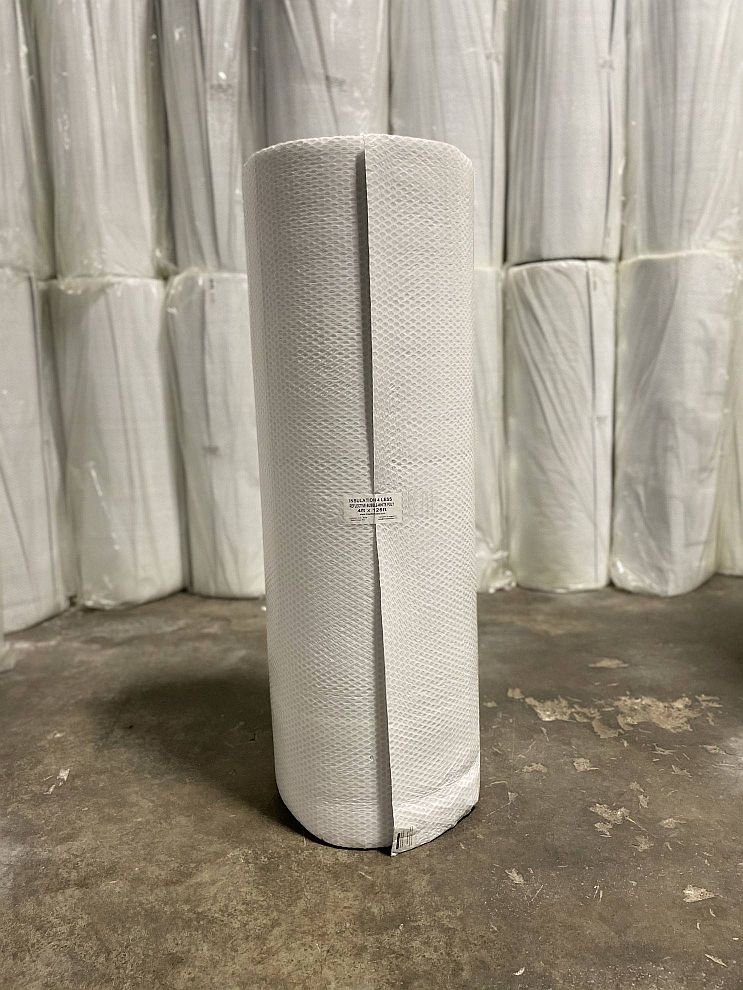 Bubble wrap insulation is made of one or two layers of foil with encapsulated air bubbles pressed in between the layers.
It is a radiant barrier, which means it has the ability to reduce radiant heat, keeping your home, office, pole barn or warehouse cool and fresh in summer and comfortably warm in winter.
It comes in two varieties: single bubble and double bubble. The difference lies in the bubble layers in the middle.
Single bubble insulation has one layer of bubbles sandwiched between the external layers, while double bubble insulation consists of two bubble sheets.
External layers also come in two different types. The first, often called bubble white, contains polyethylene bubbles (in single or double options) between one metalized low-emitting surface and one layer of white polyethylene.
Thanks to its attractive white finish, bubble white can be applied in many different areas of a building. It acts as a vapor retarder and also offers a thermal break.
The second type of external layer, often called bubble reflective insulation, includes two layers of metalized, low-emissivity surfaces, one on each side of the bubble middle part.
This type is recommended for long-term applications because it typically comes at a higher price, but you'll see a return on investment in time.
Logically, two foil layers make the insulation more robust, thicker and stronger and ensure a bigger thermal break, so it's common to use both internal and external insulation for projects where you want to ensure extra protection.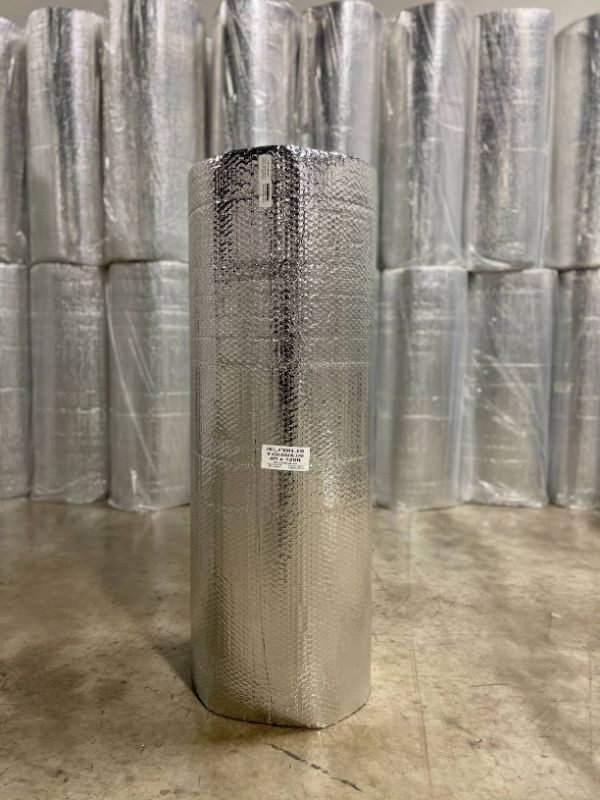 .
How Is Bubble Wrap Insulation Produced?
The production process of this type of insulation includes several stages:
The polyethylene resin beads, each the size of a rice grain, are melted at a high temperature (over 450 degrees Celsius)
The melted beads are merged into thin sheets of polyethylene
The polyethylene sheets are flattened to a desired thickness
The ready film is fed into rollers with small holes
The air is vacuumed and blown into the holes of the roller
The plastic sheets are transferred through other rollers to seal the air inside
The bubble wrap insulation is cut to different sizes and rolled
Where To Use Bubble Wrap Insulation
This insulation is most commonly used in residential and commercial buildings including metal ones, but it's suitable for use in a number of situations, including:
Pole barns
Home spaces and structures like attics, crawlspaces, roofs and walls
Pipe wraps
Air-conditioning devices
Water tanks
Dog houses
Wrapping for aluminium construction material
Packaging of glass materials, electric appliances, electronic items, plastic molds and more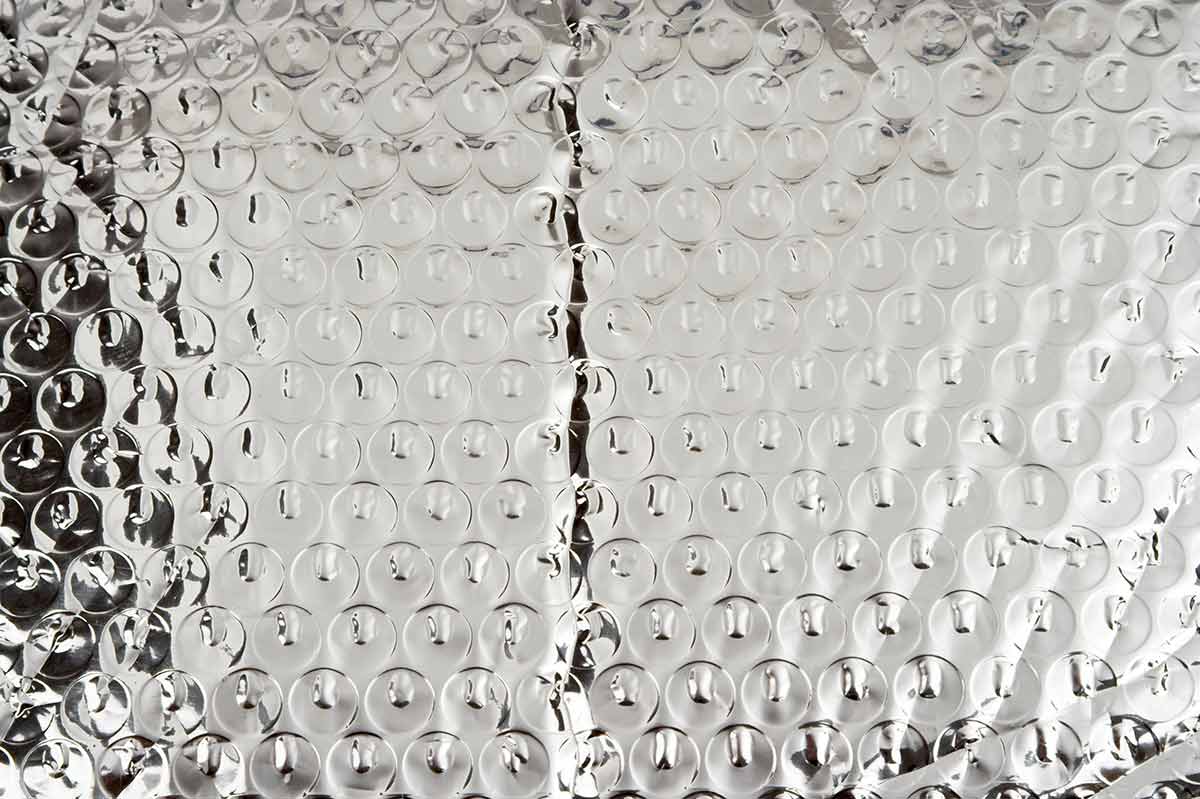 Why Choose Bubble Wrap Insulation?
While bubble insulation has some drawbacks compared to other insulation types, the biggest advantage is that it reduces heat transfer by using reflective foils, which helps with temperature control inside a structure.
Reasons why you might choose this type of insulation is because it:
Keeps external heat out in summer and protects indoor heat during winter
Is lightweight, easy to work with and transport
Is flexible and easy to install
Protects against impact
Provides soundproofing
Traps condensation
Is reusable and eco-friendly
Optimizes the building HERS rating
Is cost-effective and less expensive than other options
Requires no special clothing or equipment needed during installment
When To Install Bubble Wrap Insulation
There are two options for installation.
The first option, which is typically recommended, is to install it during the construction process. During construction, it is cheaper and easier to apply, because you don't need to remove old layers of insulation.
The second option, known as retrofitting, it to install the insulation in buildings that have already been completed. The new insulation can be applied to roofs, walls and floors after the old insulation is removed.
New insulation can also be applied on top of old insulation, but only if the old layers are dry and not ripped or damaged. If you're applying new insulation on top of old layers, it's important to leave an air gap between the two, to ensure that moisture doesn't get trapped and cause issues in the future.
10 Tips To Keep In Mind When Installing Bubble Wrap Insulation
While you can install insulation on your own, its only effective if it's installed properly. Professionals can help ensure that nothing is missed, so your insulation holds up over time and performs every function it's designed for.
If you decide to apply bubble wrap on your own, here are a few important tips to keep in mind:
Note that foil bubble wrap insulation is more effective in hot or mixed climates, compared to cold climates, thanks to its ability to radiate heat.
Choose spring and fall as the most appropriate seasons for installment to help reduce exposure to extreme temperatures.
Prepare your set of required tools which includes a staple gun, measuring tape, a utility knife and safety tools such as glasses, gloves and a dust mask.
Make sure all ladders are secured for high or tough-to-reach places.
Spread the insulation over the metal joists or purloins with its shiny side up, whether installing on new construction or retrofitting.
Allow the insulation to "droop" between the points of attachment to make sure there is minimum 1 inch (2.5 cm) air space between the insulated surface and the foil.
If you apply the insulation on flat ceilings, install it along the roofline instead of on top.
Keep the metalized surface clean and dust-free at all times to optimize the results.
Remember that bubble wrap does not typically seal well around punctures, so you may need to combine it with other insulation options like spray foam.
Use foil tape to cover tears, edges and joints if needed if you do not have other options (such as spray foam).
Prodex: The Best Insulation Solution
So now that we've covered the in's and out's of bubble wrap insulation, we'll let you in on a little secret. What's our recommendation for the best all-around insulation type?
Prodex.
Prodex is a new generation material that has the ability to handle numerous insulation issues that can arise, such as heat, cold, noise and condensation.
It is recommended especially for insulating living and storage spaces, including metal buildings, pole barns, warehouses and more.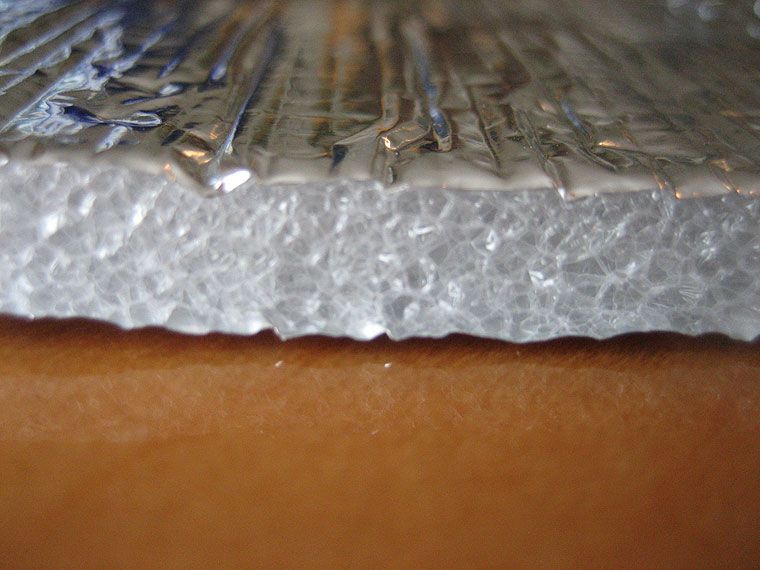 Bubble wrap insulation and Prodex share few similarities. They both serve as a radiant and vapor barrier. However, they have very different R-values.
An R-value is a measurement that shows the ability of a material to resist heat transfer. The higher the R-index, the more effective insulation is regarding heat resistance.
The R-value of bubble wrap insulation is very low (1.0 or 1.1) and it is affected by compression.
The R-value of Prodex ranges from 17 to 22 when incorporating an air-gap in specific applications.
In contrast to bubble wrap insulation which has a core made of air, Prodex's middle part is made of closed cell polyethylene foam. That, together with the reinforced reflective foil on the sides, makes it consistent in performance.
In addition, Prodex:
Is durable because of the reinforced foil and closed-cell polyethylene FOAM center
Prevents up to 97% of radiant heat transfer
Blocks condensation
Increases airflow due to rippled surface
Seals around nails which does not allow leakages
Keeps its shape and does not collapse over time
Is resistant to fire
Provides a vapor barrier
Does not allow the nesting of rodents, bugs and birds
Does not promote mold or mildew
Is eco-friendly
Wondering if foil insulation will work for you?
Contact us
!
Wrapping Up On Bubble Wrap And Prodex
Insulation4less is a leader in the industry with over 18 years of experience. We're here to provide all your insulation needs and answer any questions you might have to make sure your project runs smoothly and you're satisfied with your results.
When it comes time to choose the best insulation for your project, we recommend Prodex, hands down.
Compared to bubble wrap, both types of insulation are reflective options that offer a radiant and barrier protection, plus an R-value, but that's where the similarities end.
Prodex is stronger, safer, more durable and an all-around better investment to protect the integrity of your project over time.
Regardless of which insulation type you choose, our experts are here to help. Contact us with questions or concerns, visit our insulation calculator and check out our best deals to get started on your project.
Want to try our all-in-one insulation solution? Check our Prodex inventory!