Pole Barn Insulation: How To Protect Your Pole Building From Weather, Noise, Rodents And More
Seasonal changes can be a challenge for every pole barn. They can affect the condition of the building itself, and the people, animals, equipment or goods inside.
High or low temperatures, humidity and lack of ventilation can cause condensation, mold and mildew, nesting of rodents, bugs and birds, and other serious problems.
The solution to these common pole barn issues? High-quality insulation.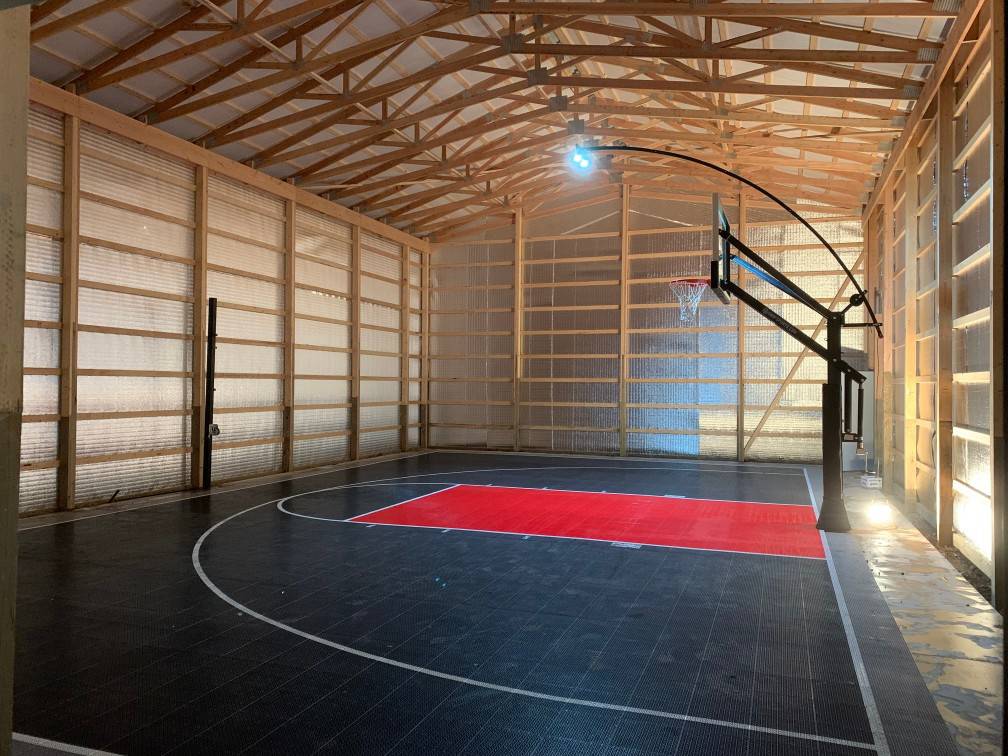 We'll walk you through the benefits of insulating a pole barn, compare different types and give you our expert recommendation on the best insulation for a pole barn.
Pole Barn Insulation - Why do You Need It?
Whether you're using your pole barn as a car garage, workshop, animal barn or greenhouse, or a rec-room, workout studio or storage space, insulation provides numerous benefits, from weather protection to noise control and more.
Pole building insulation will:
Make your pole barn structure more rigid, stable and durable
Eliminate condensation
Ensure healthy and hygienic conditions
Help protect against shattering and deterioration
Provide weather-related-damage resistance against mold, cracking and rotting
Add fire resistance characteristics
Absorb outside noise
Deaden the sound of extreme weather such as rain, hail, wind or storm
Minimize maintenance and repair costs
Increase the life expectancy of the pole barn
Decrease insurance costs
Make the exterior more attractive
Considerations For Insulating A Pole Barn
The benefits of insulating your pole barn are clear. Regardless of what you plan to use it for, added protection from weather, noise, fire, mold, bugs and rodents alone makes pole barn insulation a worthwhile investment.
But before you start your project, you'll want to consider some of the following circumstances to help you choose the best insulation for your pole barn.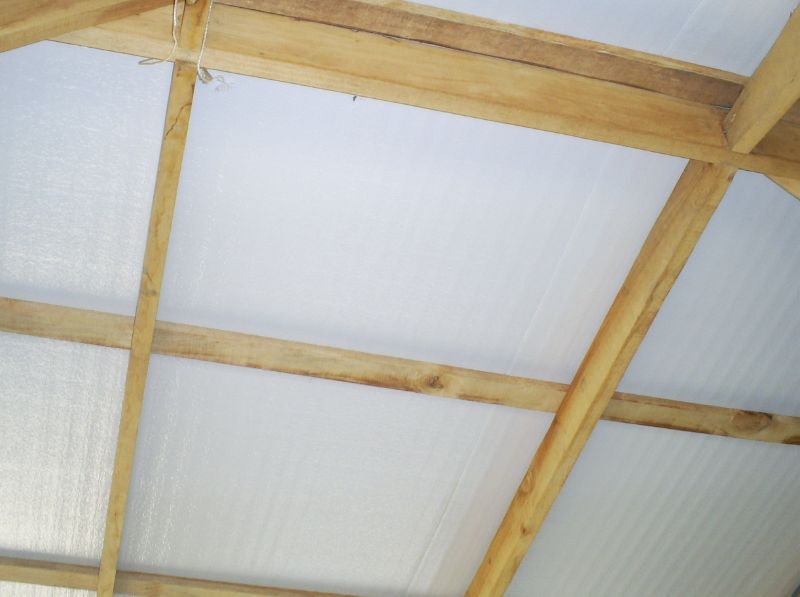 Do you live in a very hot or humid climate?
Do you have additional sources of humidity inside, like livestock, plants or propane heaters?
Do you notice drastic difference between inside and outside temperatures?
Do you have fluctuating temperatures in different inside areas, resulting in moisture?
Do you experience chilly draughts?
Have you noticed water leakage in your pole barn?
Have you seen repeated cases of ice on the roof of the barn?
Do you often have problems with frozen or broken pipes?
Does your pole building have ventilation issues?
Have you noticed mice, bugs or birds in your pole barn?
The type of pole barn insulation you choose needs to address specific problems you see or those that could arise. Whether your pole barn is already standing or you plan to insulate at the time of construction, the above considerations can help you prepare for your project.
Types Of Pole Barn Insulation
Each type of insulation has its advantages and disadvantages. To choose the best type for your project, consider your specific needs and desired results.
It is important to note that when considering the best insulation for your pole barn, you should pay special attention to the insulation R-value.
An R-value is an index which shows the ability of every insulation material to resist heat transfer. A high R-value means the insulation is more effective when it comes to heat resistance.
The most common types of pole barn insulation include:
Fiberglass insulation: Fiberglass insulation is a popular option that is affordable and easy to install by both professional insulation companies and DIY enthusiasts. Fiberglass batts are pre-sized to fit standard construction structures. This type of insulation is also available in rolls and loose-fill. The R-value of fiberglass can vary from 2.9 to 4.3 per inch, depending on the density and thickness of the material.
Spray foam insulation: This type of insulation can be open-cell or closed-cell, differing on thermal and water-resistance as well as air and vapor barrier characteristics. The R-value of spray foam insulation typically ranges from 3.7 to 6.5 per inch depending on the thickness, density and type of the spray foam. It is unaffected by humidity. Spray foam is resistant to mold and mildew, and does not allow nesting for rodents, bugs and birds. However, spray foam insulation is not efficient enough against condensation, does not seal around punctures, and does not serve as a vapor barrier.
Bubble insulation: Bubble insulation is efficient in both warm and cold climates. It is highly durable, lightweight, easy to work with and transport, and sound-proof. It's also a reflective insulation system, which means it can help reduce radiant heat transfer by using reflective foils, which can lower cooling costs by up to 10%. Its weaknesses include the fact that it does not seal well around punctures, it has a low R-value (1.0 or 1.1) and the R-value is affected by compression.
Prodex insulation: Prodex is also a radiant insulation, so it's highly effective against heat transfer. It's an all-in-one solution that simultaneously handles heat, cold, condensation and air. Its R-value, which incorporates an air-gap ranges from 17 to 22 in some application, is not affected by humidity or compression. It is safe to work, easy to install and does not degrade with time. Prodex is also resistant to mold and mildew, does not allow the nesting of rodents, bugs and birds, and it's able to absorb the sound of rain and hail.
What To Look For In The Best Insulation For A Pole Barn
The best insulation for a pole barn is one that provides everything you need in one: protection from weather, critters and sound, resistance to mold and mildew and more. Here's what to look for when deciding on insulation for your project:
1. Resistance To Condensation
The difference in the outside and inside surface temperatures results in condensation, which can lead to moisture issues inside your pole barn and affect the contents inside. Make sure the insulation you choose offers protection from condensation.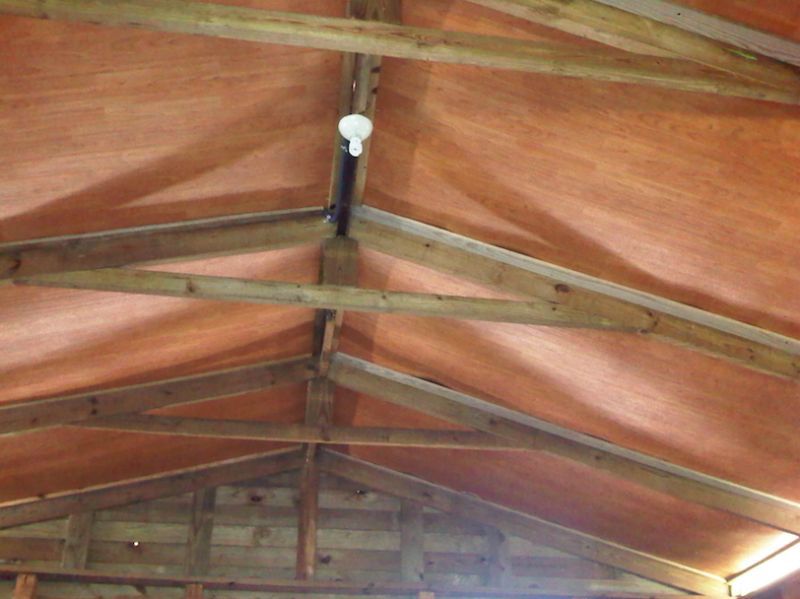 2. Resistance To Heat Transfer
Extreme outside temperatures can affect the temperature inside your pole barn. This is especially true in metal pole barns, since metal is a known heat and cold conductor.
Insulation with a high R-value keeps the temperature consistent (and help prevent condensation), so be sure to check the R-value when choosing your insulation.
3. Proper Air Transfer
Without a proper barrier, airflow can bring humidity, unpleasant odor, fumes and even smoke from a fire into your pole barn. The best insulation for a pole barn should act as an air barrier to separate garages and workshops from other conditioned spaces and improve safety.
4. Sound Absorption
Metal buildings can significantly increase the sound of rain, hail, storm, engine roar and other loud noises. Your insulation should act as a sound barrier to help protect the people or animals that may be inside.
5. Easy Installation
Pole barns are often sizeable structures. Whether you're having your insulation professionally installed or you're working on a DIY project, ease of insulation can make a big difference in the time and amount of work your project takes.
6. Vapor Barrier Characteristics
When there is no vapor barrier, moisture can accumulate. If your insulation doesn't provide a proper barrier, your pole barn may be at risk for leaks, condensation and mold, and the contents inside may be ruined.
7. Resistance To Rodents, Bugs And Birds
Rodents, bugs and birds like to nest in warm places close to food supplies, and in areas with holes and cracks to facilitate their movement. Rats can eat wood, wire and other materials and cause problems with health safety. Make sure your insulation provides protection against these problematic critters.
8. Resistance To Mold And Mildew
A hot and damp environment can easily facilitate the growing of mold and mildew. Fungi like Aspergillus niger, Aspergillus avus and Chaetomium globosum can affect the health of people and livestock, and damage appliances or materials stored in your pole barn. High-quality insulation will provide protection against mold, mildew and other harmful fungi.
Looking for insulation for your pole bar? Check our best deals!
The Best Way To Insulate A Pole Barn: Prodex
So what's the best insulation for a pole barn?
We recommend Prodex.
Prodex Total is the product of a new generation that combines the most modern technological trends all in one.
When the heat or cold from the outside reaches Prodex aluminum coating, temperatures are reflected back, thus allowing temperature consistency on both sides. The same happens on the inside of the building where the inside layer performs the same process.
This means a reduced need for heating and air-conditioning units, less energy consumption, less wear and tear of equipment, lower bills and higher savings.
Additional benefits of insulating your pole building with Prodex?
Reflective reinforced foil
Prevents 97% of radiant heat transfer
Prevents condensation
R-value is not affected by humidity
R-value is not affected by compression
Closed-cell polyethylene FOAM center
Increased airflow due to rippled surface
No leakage due to perfect sealing around nails
No deterioration over time
Fire-resistant
Vapor barrier
Does not allow the nesting of rodents, bugs and birds
Does not promote mold or mildew
Green product
Our 18-year-professional expertise is highly valued by our clients (check out our customer reviews). At Insulation4Less, we provide you with expert advice, top-quality insulation and the best deals on the market.
What do our customers say?
Right now we hear we are the first ones in the Upper Peninsula of Michigan to have this type of insulation. Everyone is very interested. Thank you so much, we love it.
Otto and Mary Jardeen