How To Insulate A Shipping Container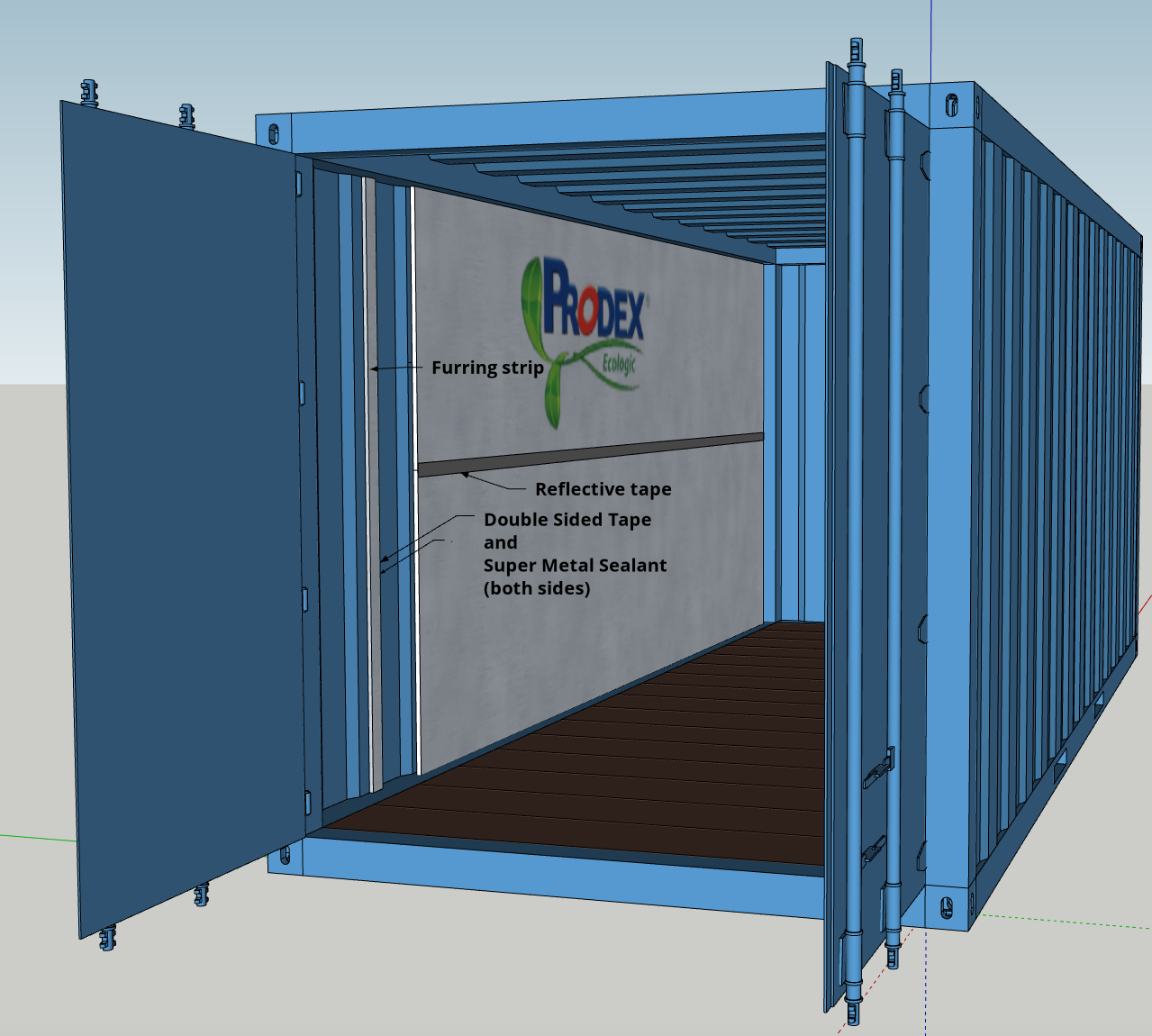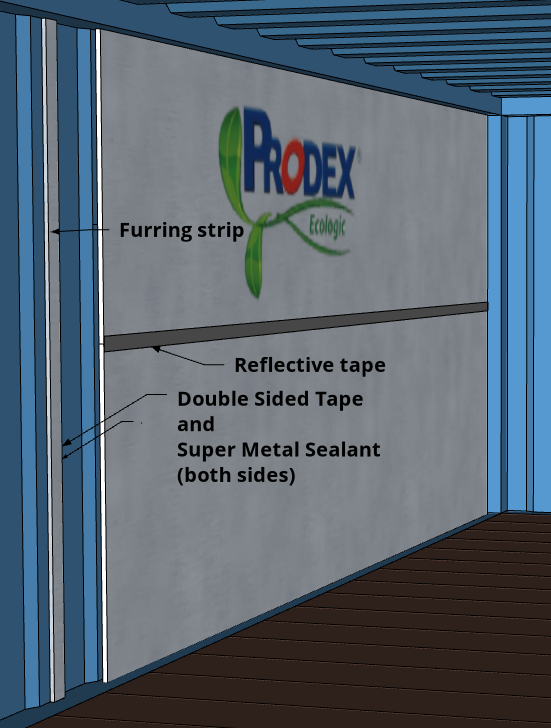 Cut four-inch wide strips of insulation from your rolls. Tape (double sided tape) and glue (super metal sealant) the strips of insulation every two feet on roof and walls. Run the tape and glue adjacent to each other the length of the strip. The tape is designed for immediate adhesion. The glue will provide long-term adhesion.
Glue and tape the insulation to the cut strips as shown in photos above and left - running the tape and glue adjacent to each other. Tape insulation seams with reflective tape or use 10M or Prodex Fast Action to avoid seam tape.
Tape and glue holding the insulation to the roof can potentially fail in the long-term. Solution...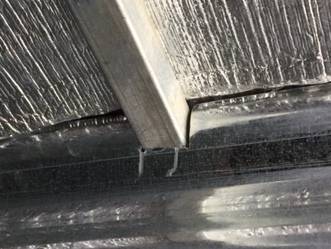 Improve hold and performance of insulation while also making your container more usable.
Screw metal sheeting to the walls (you can also use board or drywall).
Cut out 1-inch square at top of sheeting every 3 feet to hold a hollow pipe (round or square). Slide in your piping. Make sure there is enough room above the of piping to slide in an extra layer of Prodex Total.
Slide the Prodex Total above the piping from one end of your roof to the other end.
Tape insulation seams with reflective tape or use Prodex Fast Action to avoid seam tape.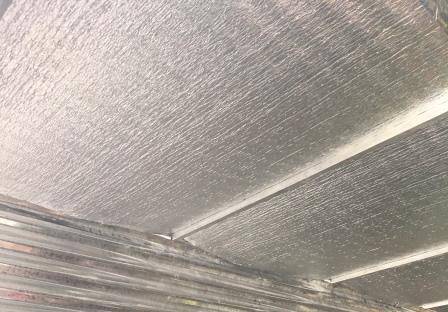 Another Option Fur out the container with 2" x 1" furring (run the furring vertically). Attach the insulation horizontally with screws or staples. You can then attach your wall board/drywall.
A shipping container insulation system requires a Radiant barrier, Vapor Barrier, and Reflective Insulation because of the unique nature of the metal. The sun's rays on the metal surface creates unbearable heat inside the container in the summer. Cold winter temperatures are exaggerated by the metal sheeting making it frigid inside. Warm temperature on a cool metal creates sweating (condensation). Prodex Total serves a true vapor barrier and condensation eliminator. It has a high R-value and it prevents radiant heat transfer (primary source of heat-flow). It's superior to fiberglass batt in metal buildings and pole barns because it is unaffected by humidity or water -- It doesn't mildew or promote fungus growth and it keeps the building cool in the summer -- It doesn't promote nesting for rodents, bugs and birds. It is also much easier and less expensive to install. It is superior to double bubble insulation in a shipping container because the heat from the metal skin doesn't cause its polyethylene micro-bubbles to collapse. With a pressure of 6 PSI Prodex compresses just 6%. When the load is relieved it takes back its initial shape. The density of the foam is between 1.25 lb/ft (sq) - 1.87 lb/ft (sq). This gives the material real body.

Reenie: Wednesday, May 3, 2017
I recently ordered and received Prodex insulation. I have installed it in my container. The product is fantastic! It was super easy to install and works great! It immediately reduced the temperature in the container. I furred the container out with 1x2s and simply stapled the Prodex over them. I then sheetrocked over the Prodex. It all worked out perfectly! I believe it is a superior product than the R-13 fiberglass I installed in the ceiling. I just wanted to extend my appreciation to the company for an outstanding product, immediate customer service and instant delivery.

aestates: Saturday, February 06, 2010
I used this to insulate a CONEX shipping container. It was easy to install with your double stick tape & insulates well.

For Independent Reviews visit Site Jabber.

40 ft. Container - If selecting Prodex Total 10M order 4 Insulation rolls.
If selecting one of the following Prodex Rolls: 48 Inch, Fast Action or White order 2 insulation bags.
Also order 1 set of reflective tape 3 rolls/set + 1 sets of double sided tape 4 rolls/set + 2 cases of Super Metal Sealant. You don't need to order reflective tape if you buy Prodex Total 10M or Fast Action.

20 ft. Container - Order half (1/2) the amount shown above.