INSTALL GUIDES: Pole Barns
Use: Prodex 48 Inch, Fast Action, 10M, 72 Inch, White, 24 Inch, 16 Inch, Rustic, Reflective Bubble Reflective or Foil Fiberglass Vinyl
Equipment checklist: Reflective tape, double sided tape, Super Metal Sealant, utility knife and staple or screw gun - Refer to application.
A pole building insulation system requires a vapor barrier, insulation and radiant barrier. Why? The sun's rays on the metal surface creates unbearable heat inside a pole barn in the summer. Cold winter temperatures are exaggerated by the metal roof and wall sheeting making it frigid inside. Warm temperature on a cool metal roof or wall creates sweating (condensation). Prodex Total serves a true vapor barrier and condensation eliminator. It has an R-value unaffected by humidity and it prevents radiant heat transfer (primary source of heat-flow). For more information visit: Pole Barn Insulation and read independant Prodex Insulation4Less Reviews at Site Jabber
How To Insulate A Pole Barn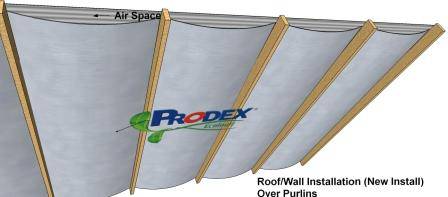 Roof/Wall (New Install) 2 layers of Prodex: Use Prodex 48 Inch, Fast Action, 10M, 72 Inch, White or Rustic.
Apply double sided tape on the top of the framing (helps keep the insulation from blowing in the wind).
Roll insulation perpendicular to and over the frames.
Tape seams with reflective tape or use 10M or Prodex Fast Action to avoid seam tape.
Attach your sheeting
Screw or glue (super metal sealant) insulation to underside of purlins. If gluing, reinforce with wide-head screw every 3-4 feet. Run the insulation perpendicular the purlins - That way a 48 Inch wide roll will work regardless of the width between your purlins.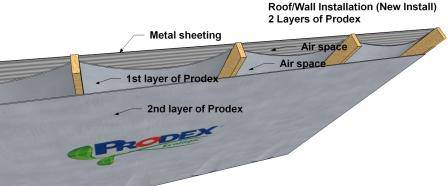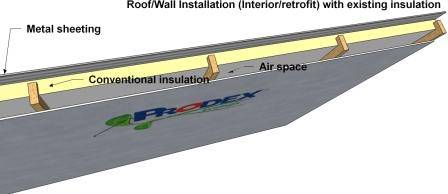 How To Insulate An Existing Pole Barn