The Best Metal Warehouse Insulation Stops Condensation, Heat and Cold
Your metal warehouse insulation shouldn't only protect from cold - It also must protect from radiant heat and condensation.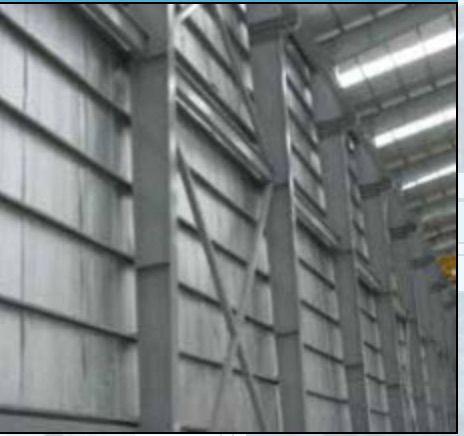 Stop Condensation - It can seem like a tropical rain forest inside an unprotected metal warehouse. It's worse on those days where there is a greater contrast between temperatures at night vs. day. The morning sun hitting the cool metal sheeting will create a drip. When warm air comes in contact with the cool metal sheet, condensation occurs. A temperature difference between the outside and inside of your building creates condensation - Similar to what happens when you have a cold can of beer outside on a hot day.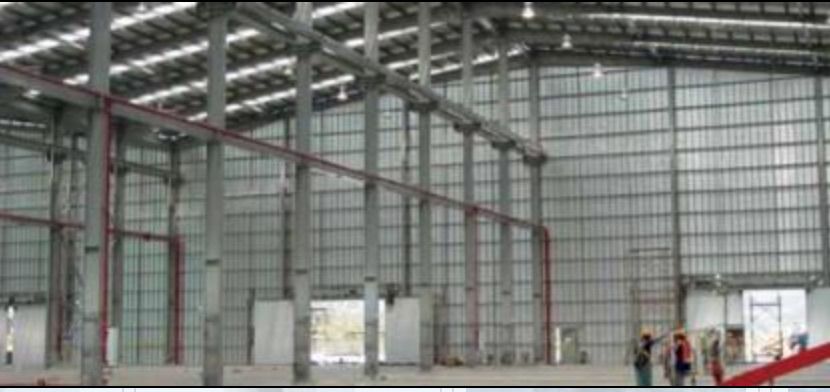 Prevent Radiant Heat Transfer -Mid-summer sun rays hitting the metal sheeting radiates downward (inside). It can make it unbearably hot and humid inside. The metal skin magnifies the heat of the summer and frigid temperatures of the winter. Metal is a very good conductor of heat and cold. In hot weather, metal framing and sheeting rapidly radiate the sun's heat into a building.
Keep Cold Out -Winter temperatures turn metal sheeting cold. The cold sheeting chills the inside of your building making it like an ice box - colder inside the building than out.
I thought I had a Higher R-value - Fiberglass Blankets Lose R-value
Once fiberglass insulation gets wet (and it will get wet, due to condensation) it will lose R-value! Water trapped between fiberglass insulation and the exterior of a building will also cause mold, fungus growth, rust and oxidation - Conditions that will degrade the metal and shorten the service of the structure. In addition, fiberglass insulation does not prevent radiant heat transfer (the primary source of heat-flow in and outside your building).
Take a look at the white vinyl facing the next time you're in a metal warehouse - It will be either sagging, or sagging and flaking. This is due to the added weight of water. Behind the white vinyl is a wet, mold filled blanket that will eventually cause the white vinyl to crack and fall off. At some point, when you're exposed to the toxic fibers, you'll be forced to remove the insulation - Hopefully before it does too much damage to the metal framing. Avoid an insulation that collects moisture, attracts mold, cracks and needs to be replaced. If you insist on using fiberglass, use it in conjunction with Prodex Total, so the Prodex can keep the moisture out of the fiberglass.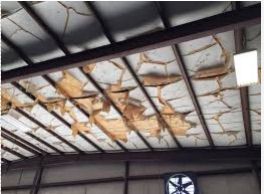 The Prodex Total R-value is not affected by humidity. This feature cannot be over emphasized. There will always be some humidity in a metal warehouse and your insulation must work in these conditions.
Why Metal Warehouse Insulation is Necessary -- Hotter Inside Than Out
Fiberglass and spray foam don't protect against radiant heat transfer. Without a radiant barrier, when your roof gets hot it radiates solar-generated heat down. This often results in it being hotter in your warehouse than out. Prodex Total warehouse insulation solves radiant heat problems. Since open cell foam providers suggest you supplement open cell foam with a vapor barrier. Why not use a warehouse insulation that includes a vapor barrier and a radiant barrier? The cheapest way to insulate a warehouse is to use one product that includes everything!
Prodex reflects 97% of the radiant energy (primary source of heat flow) that strikes it - Which also protects your animals from Black Globe Effect. Prodex also reflects back the heat inside your steel building. Each unit of radiant heat energy that is reflected away from your warehouse in the summer, and each unit that is reflected back during the winter, means less operation of your heating and air conditioning system - Less wear and tear on your equipment - Less money you pay in utility costs. Fiberglass and spray foam insulation do not prevent radiant heat transfer.
Condensation Damages Contents In A Warehouse
Protect your valuable contents from damaged caused by moisture.
Using Prodex Total as your warehouse insulation will eliminate the moisture (condensation) from forming on the metal sheeting. It does it by making the temperature of the metal sheeting on the building approximately the same on the inside as the outside. When the heat or cold from outside comes through the metal skin it hits the outside reflective facing of Prodex and is reflected back upwards through the underside of the metal sheeting. This process keeps the metal sheeting temperature consistent on both sides. In addition, the inside reflective layer of Prodex metal warehouse insulation keeps the heat (heater) or cold (air-conditioning) inside the warehouse from getting to the metal skin. This also helps in preventing condensation.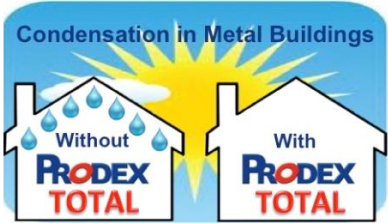 Fast Shipping From Houston Insulation Warehouse
Larger orders (for warehouses) typically ship within a day and arrive in 2 to 8 business days to U.S. locations. More on shipping
Confidence To Buy Metal Warehouse Insulation Here
Independent Reviews at Site Jabber. Site Jabber is the leading destination for customer reviews of businesses. We include their link (bottom right of every page) because they only allow customer reviews.
BBB report. For over 100 years, BBB has set the standard for ethical business behavior. We're proud to maintain an "A to A+" rating. This rating takes into account a company's size in its relation to complaints.
ICC-ES Recognized - ICC-ES is an evaluation service that takes independent test data for a variety of products and analyses it against a uniform Acceptance Criteria that is recognized internationally.
Over a million orders totaling more than 5 billion square feet of insulation sold.
How To Insulate A Metal Warehouse
Prodex Total can be installed before or after your metal sheeting. For fastest and easiest installation, install before applying your sheeting.
New Buildings: lnstall the insulation over your purlins and girts (sandwiching it between the sheeting and the purlins/girts).
How to Insulate An Existing Metal Warehouse
Easy - Attach the insulation under the purlins and girts. Visit How to insulate an existing metal warehouse It's a lot easier and less expensive to install a 5mm or 10mm roll of Prodex than a bulky 6 inch roll of fiberglass or spray foam. Pinching 6 inches fiberglass between the framing and sheeting is not easy. It's really tough having to use a wire mesh to hold fiberglass in place on an existing building. Spray foam is not DIY friendly.
More Benefits of Prodex Total Metal Warehouse Insulation
Protects Contents From Vapor -Prodex is a class 1 vapor barrier. A vapor barrier (moisture barrier) refers to any material that prevents moisture from passing through the walls or roof of a building. This material can be plastic or better yet, Prodex Total Insulation - 0.2 inch, 5mm closed cell polyethylene foam covered on both sides with reflective reinforced foil facing. Prodex Total Insulation (Vapor Barrier, Class 1. perm<0.1).
Prevents Rodents, Bugs and Birds from Nesting
Unlike fiberglass insulation, Prodex does not provide for the nesting of rodents, bugs and birds. Rodents, bugs and birds aren't able to digest the aluminum.
Deadens Sound of Rain and Hail
Metal skin on a building can exaggerate the sound of rain and hail. Prodex has an excellent sound deadening properties.
Increased Lighting Efficiency
Prodex provides a bright, attractive finish to your metal shed. It reflects the light, making it easier to light the building interior.
Won't Promote Mold or Mildew
Resistance to Growth of FUNGI
Aspergillus niger
Aspergillus avus
Aspergillus versicolor
Penicillium funiculosum
Chaetomium globosum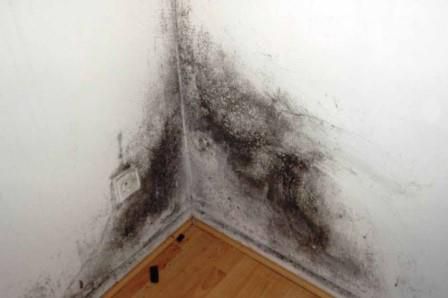 Stops Air Transfer
Air flow carries moisture that impacts the temperature and integrity of the warehouse building. Air-flow affects a building's behavior in fire (spread of toxic smoke and gasses). Air barriers also separate the warehouse from conditioned office spaces. In this case an air barrier would also serve as a "gas barrier" an obvious safety feature. Prodex Total is an air barrier.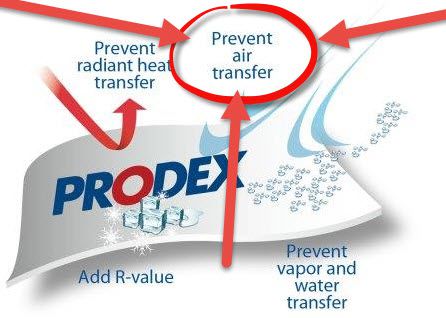 Hansen51: Sunday, December 29, 2013
Dear Insulation4Less,
I have been extremely happy with the 48" prodex insulation used in my 80' x 110' machine shed. It was easy to cut, staple, and tape on the walls. I replaced the roof on the shed also and had the roofing company lay down your product under the metal roof and they did not charge me extra to do it! I think they liked it too. Easy to cut and handle. Thank you! Mark Hansen, Sherman, IL
David W.: Friday, August 28, 2009
Dear Insulation4Less,
I am the Warehouse Manager for Schlossadler Wines, Inc. We are an international boutique wine distributor with a 9,300 sq. ft. warehouse in Oceanside, CA. Approximately one month ago the owner of the company (my boss) came to me with the task of researching, ordering, and installing insulation for the ceiling of the entire building by myself. With limited experience in this particular area under my belt, I accepted the project anyway. I honestly didn't even know where to start. I sent detailed photos along with our information and questions to your sales team. They replied promptly with very easy instructions and recommendations as to "what type" and "how much" product should be ordered to complete our mission. Now, one month and about 200 hours later, my boss is extremely happy, our stock is cool, and I've received a very generous bonus!! Thanks Insulation4Less, I will definitely spread around the words: "foil-foam-foil!"
Buying Warehouse Insulation Made Easy
Insulation roll pricing on product pages
Tips to save on shipping
Discount volume pricing in shopping cart
Order/get a quote

Featured Warehouse Insulation For Sale - Prodex Total
Other Insulation Products For Sale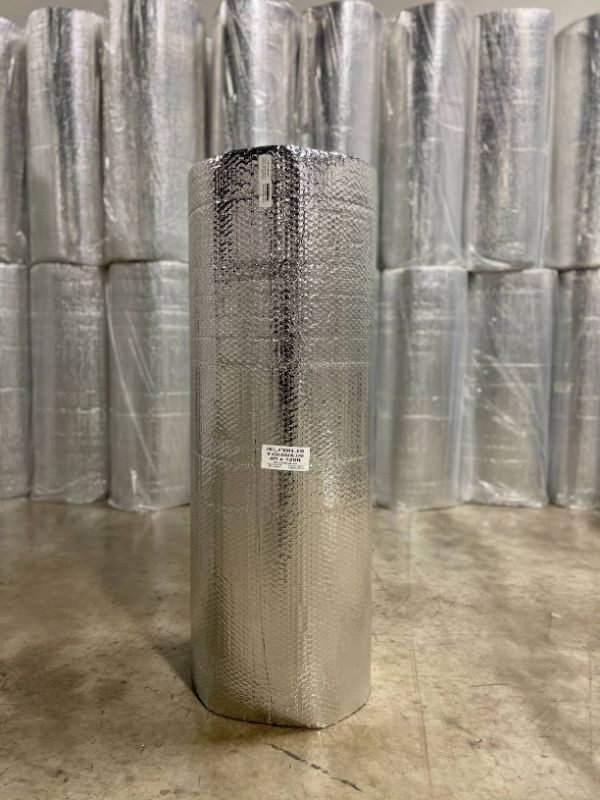 4ft x 125 ft roll. Low-cost alternative to Prodex. Single bubble reflective insulation composed of 1 layer of 5/32 inch (4mm) polyethylene bubble sandwiched between two metalized, low emissivity surfaces.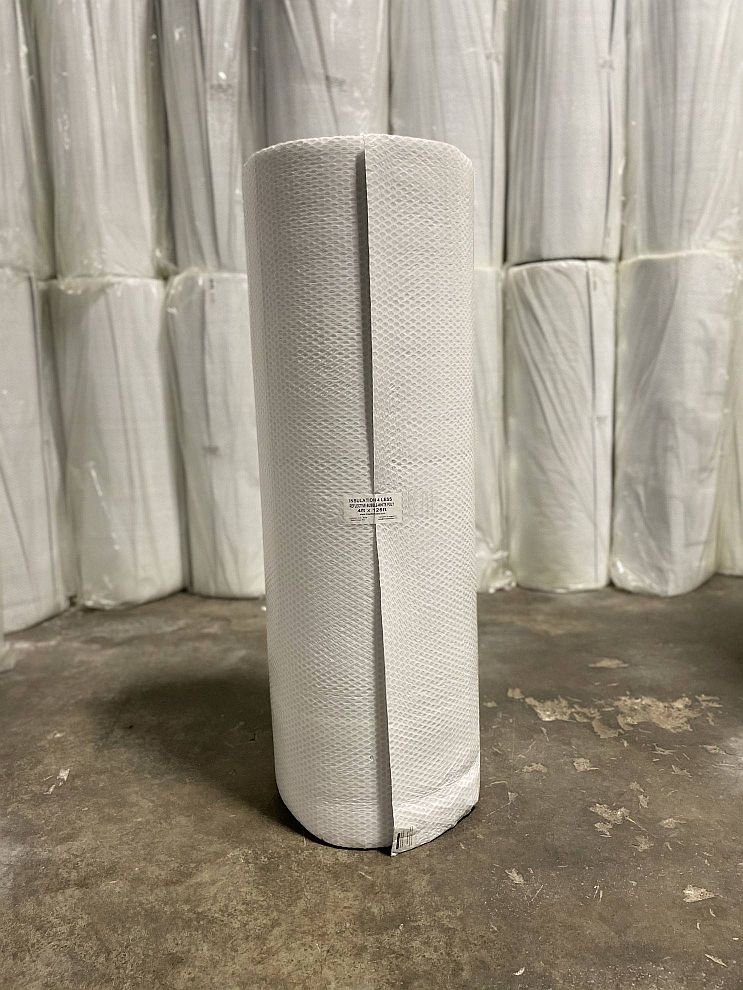 4 ft x 125 ft roll. Single bubble reflective insulation composed of 1 layer of 5/32 inch (4mm) polyethylene bubble sandwiched between one metalized, low emissivity surface and white polyethylene.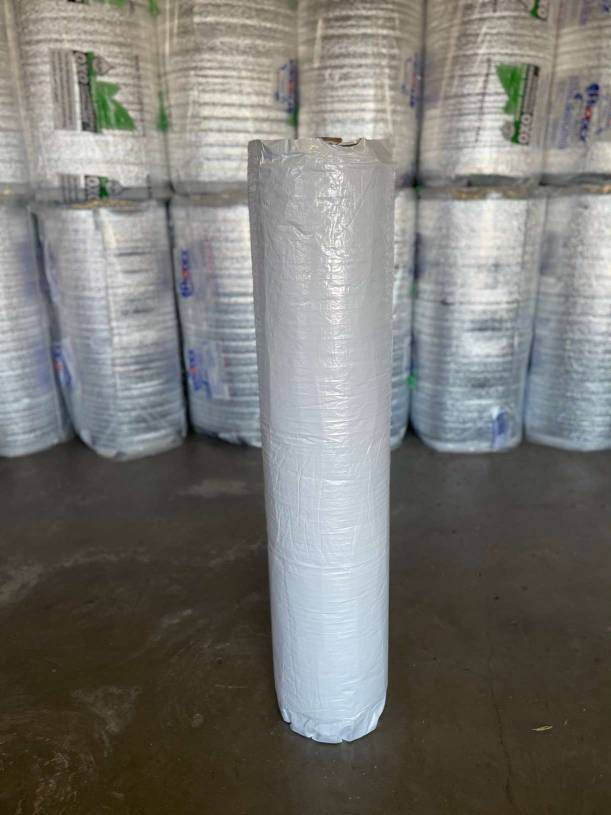 4 ft x 125 ft roll
and
6 ft x 125 ft roll.
Reflective insulation composed of 1/4 inch fiberglass core bonded to one layer of 99% pure aluminum and one layer of durable white scrim-reinforced facing material.