The number of pre-engineered steel buildings in the US continues to grow and now constitutes 65% of commercial low-rise projects and 95% of industrial new construction.
This increase means a higher demand for metal building insulation options.
If you've ever spent time in an uninsulated metal building, you're likely familiar with the extreme temperatures that can occur.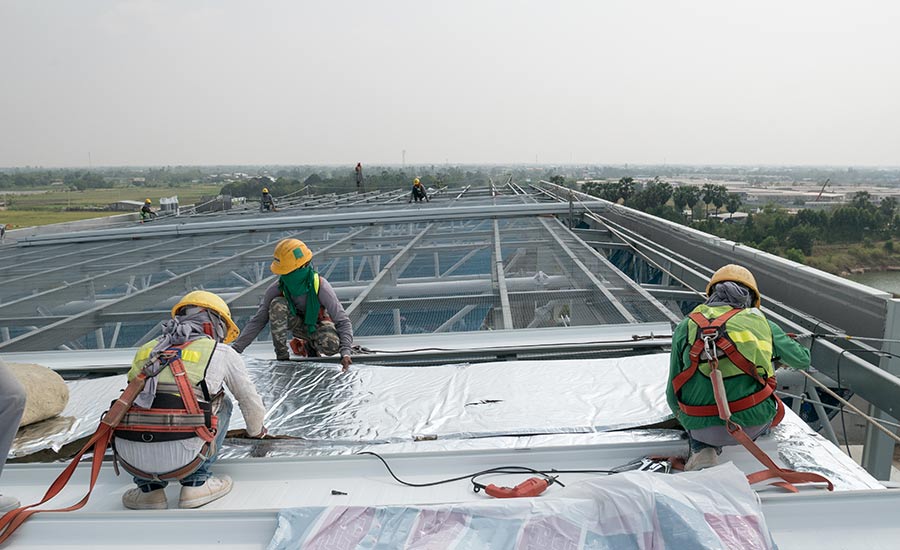 Without an insulation barrier, metal buildings can become scorching hot in the summer and blistering cold in the winter.
Insulating your steel building not only provides weather protection, it also offers noise protection, proper ventilation, reduced energy costs and more.
Here, we will provide a detailed guide on how to insulate a metal building for both new and existing structures, product recommendations and tips to keep your steel structure condensation-free.
How To Insulate A Metal Building: Types Of Insulation
The most common options for metal building insulation include reflective foil, fiberglass, insulated panels, rigid boards and spray foam.
Each type has its advantages and disadvantages, and considerations include budget and performance expectations.
Based on our 18-year technical expertise, we recommend the use of Prodex for your metal building insulation.
Why Prodex?
Prodex is a new generation material that serves as an all-in-one insulation solution.
Prodex:
Has a reflective reinforced foil structure with a closed-cell polyethylene FOAM center
Prevents radiant heat transfer by up to 97%
Blocks condensation
Has an R-value that is not affected by humidity or compression
Is fire-resistant
Has a rippled surface that adds to increased airflow
Seals well around nails and does not allow leakage
Does not decay over time
Acts as a vapor barrier
Prevents the nesting of rodents, bugs and birds
Prevents the growth of mold and mildew
Is eco-friendly
When it comes to metal building insulation, we recommend Prodex 48 Inch, Fast Action, 72 Inch, 10M and White Prodex Total.
Each of these types provide improved tearing resistance, zero-index flame spread and an R-value between 15.3 and 22, while the reflective reinforced foil on each side ranges from 5 mm to 10 mm.
Prodex 48-Inch and Prodex Fast Action have similar features but the latter has adhesive running 175 ft on one side of the roll to seal the seams. If you opt for Prodex Fast Action, you will not need reflective tape and you will save time and money during the installment.
Prodex Total 10M Plus has cuts at the edge to overlap the rolls. A hot air gun and light hand pressure will ensure the melting of the polyethylene foam and a complete welding process. The result will be waterproof overlapping and a mechanical seal between the installed rolls.
White Prodex Total has an additional UV-resistant white facer and is ideal for applications where white facing is preferred, while Prodex Rustic provides an attractive wood finish.
Should you decide to opt for insulation options other than Prodex, we recommend using Foil Fiberglass Vinyl or Reflective Bubble Reflective. They are suitable for both new installs and existing metal buildings and are durable and affordable.
Foil Fiberglass Vinyl is made of ¼ inch fiberglass encapsulated core in one layer of 99% pure aluminum and an additional layer of durable white scrim-reinforced facing material. It is the preferred option where a white facing effect is desired.
Reflective Bubble Reflective consists of one layer polyethylene bubble pressed between two metalized low emissivity surfaces. It functions as an effective thermal break and reflects up to 96% of radiant heat.
Note that neither Foil Fiberglass Vinyl nor Reflective Bubble Reflective cover all metal building insulation issues the way Prodex does.
Not sure what type of insulation to choose?
Contact us!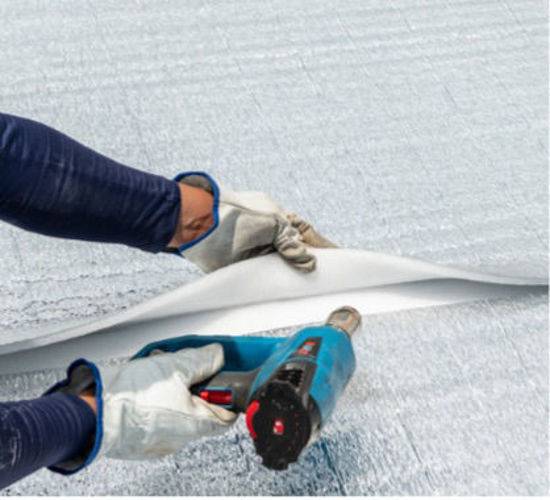 Metal Building Insulation: Equipment Checklist
The installment process with Prodex is fast and easy and does not require many specific tools.
We have prepared a short list of the needed equipment which may vary according to the type of Prodex you choose.
The equipment checklist includes:
Reflective tape is used to seal the seams of the insulation. Sealing seams improves insulation performance. The tape is effective in high and low temperature extremes such as sub-zero cold, dry or tropical temperatures. It creates a vapor barrier and can help improve the effectiveness of insulation. Unlike traditional duct tape, it is UV-resistant, does not delaminate or break down over time, and offers easy application and superior performance.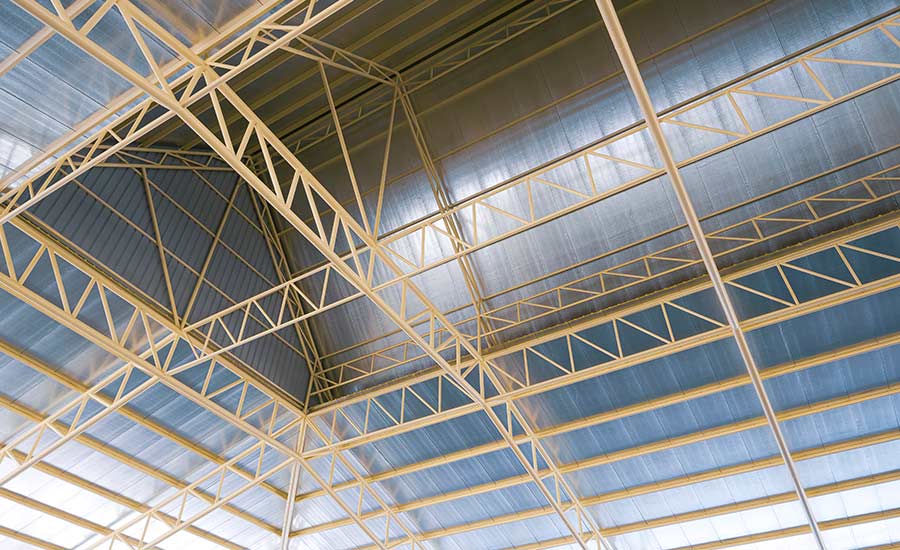 Double sided tape keeps the insulation from blowing during the installment process and helps attach insulation to the surface and seal seams.
Super Metal Sealant is used to attach insulation to any surface including steel, aluminum, pained metals, galvalume, wood, fiberglass, fiber-reinforced plastic and concrete. It acts immediately to hold the perforated pin in place. You'll need 60 minutes for the insulation to up on a vertical surface without the need for fasteners such as nails or staples.
The utility knife is used when you need to cut insulation according to certain measures while the screw gun comes in handy when you deal with fastening, to ensure continuous insulation without leaving any metal part exposed.
Heat Gun is used to seal the seams of 10M Prodex Total. The recommended heat setting is between 200 to 350°C. Start with the lowest temperature to avoid damage of the material. You can also use reflective tape to seal the seams of 10M. Prodex 10M New thermal weld system: Installation Video
How To Insulate A Metal Building: New Install
Below we will share our step-to-step guide on how to insulate your new metal building. Applying Prodex is fast and easy.
Use our Insulation Calculator (top right of every page) to estimate on the amount of insulation needed for your metal building.
New Install Roof And Wall Insulation Over Purlins
For this purpose, you can choose from our Prodex assortment — Prodex 48 Inch, Fast Action, 72 Inch, 10M, White, Rustic or alternative insulation options such as Reflective Bubble Reflective or Foil Fiberglass Vinyl.
Apply double-sided tape on the top of the purlins to prevent insulation from blowing in the wind.
Roll the insulation perpendicular to and over the purlins.
Allow the insulation to sag at least two inches. This will ensure the trapping of air, which will serve as an additional insulation layer.
Use reflective tape to fix the seams. If you are using Prodex Fast Action or 10M, you will not need to do this because of their additional adhesive that performs the same function.
Attach your sheeting.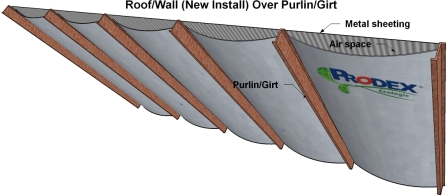 New Install Roof And Wall Insulation Over And Under Purlins
For this purpose, we recommend the use of Prodex 48 Inch, Fast Action, 72 Inch, 10M or White.
First Layer of Prodex (between framing and sheeting). Follow the instructions above for New Install Roof And Wall Insulation Over Purlins
2nd Layer of Prodex (under the purlins). Apply super metal sealant and double sided tape adjacent to each other under the the purlin. Attach the insulation. Reinforced by using screws with large heads approximately every 3 feet.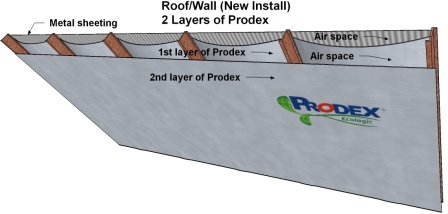 How To Insulate A Metal Building: Existing Structure [Retrofitting]
Insulating an existing metal building is known as retrofitting. It refers to structures with or without prior insulation layers.
You can use Prodex 48 Inch, Fast Action, 72 Inch, 10M, White, Rustic or alternative insulation options such as Reflective Bubble Reflective or Foil Fiberglass Vinyl.
Follow the Instructions shown above that that we recommended for the Second Layer.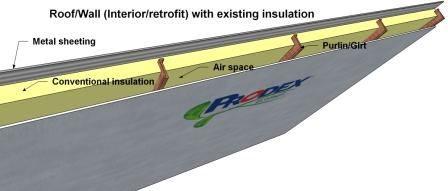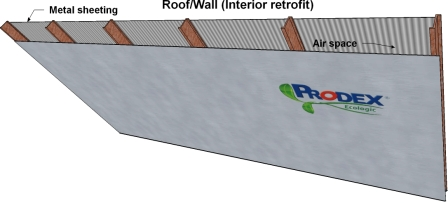 Installing Directly to the Metal Sheeting [Retrofitting]
See the equipment checklist above for links to the items referenced below.
Step 1 Use the Super Metal Sealant to add a nickel-sized glob onto the base of the perforated pins. Press the base of the perforated pins on to the purlin/girt. It's fine that the adhesive oozes through the holes of the base (you can smooth it out if you want). This part of the adhesive helps hold the anchor pin on to the metal. Space your pins 2 to 3 feet apart. Put some pins along the top of the wall girt because the Prodex is essentially hanging from the pins. Check to make sure the anchor pin is secure. The cure time can vary depending on the temperature and humidity
Step 2 Add The Spacers - While the pins are bonding to the metal, prep the foam board spacers. Cut 2" x 2" pieces from the board. These spacers are important. They provide an air gap which optimizes the performance of the insulation. Push the square foam pieces all the way down the pin.
Step 3 Attach your first row of Prodex. Push the insulation on to the pin. Leave the pin exposed because you'll push the next overlapping row of insulation over the same pin.
Tip: If needed, especially in for roof/ceiling applications, use one washer now to secure the first run of insulation and then another washer after you add the overlapping row of insulation to the pin. Remember to put pins along the top of the wall since the Prodex is essentially hanging from the pins.
Step 4 Line up your second run of the Prodex so that it overlaps the first run by a few inches. Once it's through the pin, push the washer onto the pin and press it down to secure the insulation. Now you can tape/seal your seam.
Step 5 Once the insulation is secured, snip the end of the pins. You may also want to apply tape over the cut tip of the pin to avoid someone getting cut.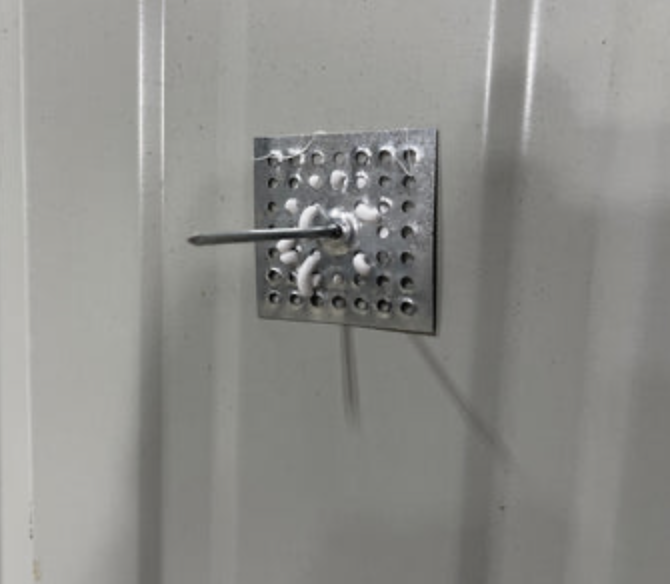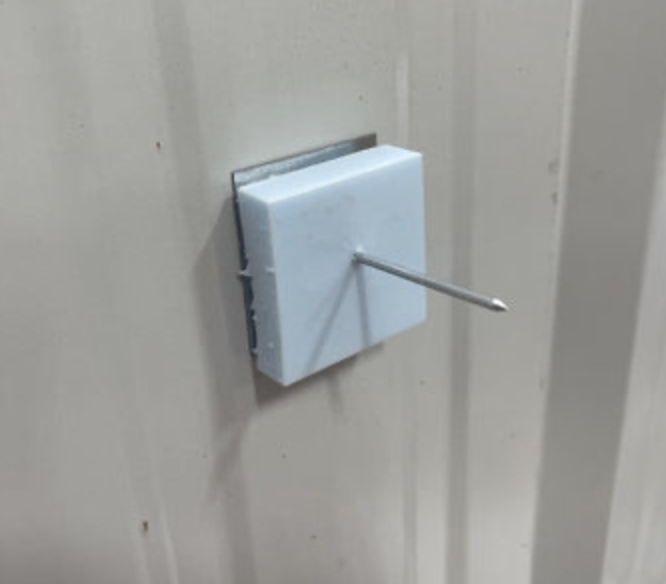 How To Avoid Condensation In Steel Buildings
In steel buildings, condensation appears when warm air comes into contact with the cold metal surface. Condensation can be visible or concealed.
If visible, it can be seen in the form of water, ice or frost on surfaces, including cooling ducts and cold pipes.
If concealed, it takes longer to notice and eventually it shows in stains and wet spots on ceilings and walls, along with peeling paint or bubbles on surfaces.
Condensation can provoke the growth of mold and mildew, and consequently health issues, along with the nesting of insects, unpleasant odor and structure corrosion.
Here are some tips how to keep your metal building condensation-free:
Make sure there is good air circulation at all times. If there are additional sources of moisture such as plants or propane heaters, use fans to facilitate evaporation.
Install quality ventilation systems or check yours to ensure they are working properly. Add ceiling vents to lead hot moist air directly outside.
Check lighting to ensure it is not generating heat. Heat build-up can lead to additional moisture.
Implement an efficient drainage system and lead the water away from rain and melting snow.
Use dehumidifiers in areas with moisture concentration.
Seal insulation ends and cover joints and seams to block moisture reaching the insulation layers, especially if you use insulation that experiences affected performance when it gets damp (like fiberglass).
Always apply insulation in a continuous mode and do not leave metal parts of the building exposed as they will facilitate heat transfer and condensation.
Apply insulation on both the walls and roof of your steel building to eliminate vulnerable areas and create an overall healthy environment inside.
When possible, use high-quality insulation that simultaneously blocks condensation and serves as an air and vapor barrier. Such insulation options, like Prodex, will ensure the optimum performance of your metal building.