How To Insulate A Metal Building
The recommended and most popular metal building insulation is Prodex Total
10M Plus
. The following are excellent 5M choices - Prodex Total Plus
48 Inch
,
Fast Action
,
72 Inch
,
White,
24 Inch
,
16 Inch
.
Please select an install method to determine which items below that you will need.
Reflective tape
Double sided tape
A utility knife
Super metal sealant (retrofit applications only)
A screw gun (retrofit application only)
Metal Screws (retrofit application only)
Metal Pins and Caps (retrofits application only)
Reflective tape is used to seal the seams of the insulation. Sealing seams improves insulation performance. The tape is effective in high and low temperature extremes such as sub-zero cold, dry or tropical temperatures. It creates a vapor barrier and can help improve the effectiveness of insulation. Unlike traditional duct tape, it is UV-resistant, does not delaminate or break down over time, and offers easy application and superior performance.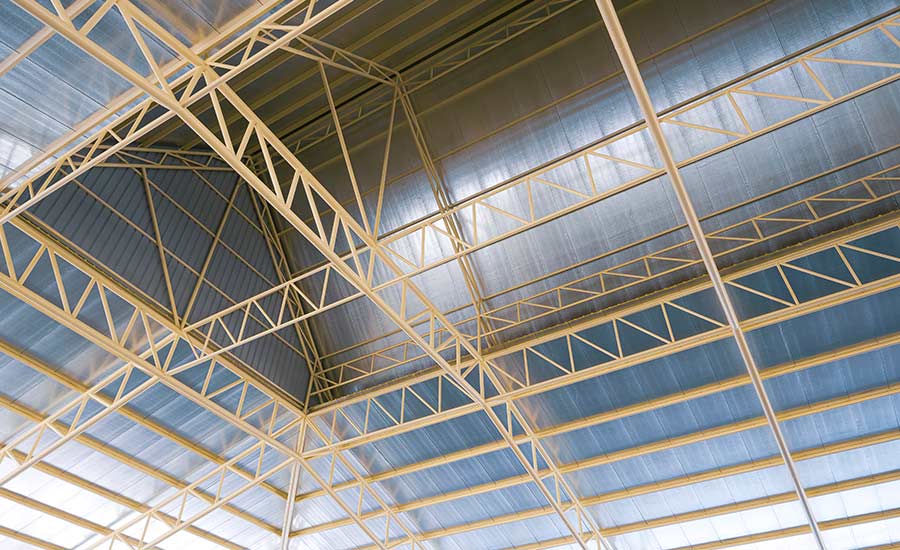 Double sided tape keeps the insulation from blowing during the installment process and helps attach insulation to the surface and seal seams.
Super Metal Sealant is used to attach insulation to any surface including steel, aluminum, pained metals, galvalume, wood, fiberglass, fiber-reinforced plastic and concrete. It acts immediately to hold insulation up on a vertical surface without the need for fasteners such as nails or staples.
The utility knife is used when you need to cut insulation.
Screws and screw gun - Are sometimes used on metal building with square tubing to attach the insulation on retrofit applications (sheeting is already attached)
Heat Gun is used to seal the seams of 10M Prodex Total. The recommended heat setting is between 200 to 350°C. Start with the lowest temperature to avoid damage of the material. You can also use reflective tape to seal the seams of 10M. Better intstall - New thermal weld system Video
Install Options:


1. New Install Roof And Wall - Installing Over Framing
Use Prodex 10M, 48 Inch, Fast Action, 72 Inch, White, or alternative insulation options such as Reflective Bubble Reflective or Foil Fiberglass Vinyl.
Apply double-sided tape on the top of the purlins to prevent insulation from blowing in the wind.
Roll the insulation perpendicular to and over the purlins.
Allow the insulation to sag at least two inches. This will ensure the trapping of air, which will serve as an additional insulation layer.
Use reflective tape to fix the seams. If you are using Prodex Fast Action or 10M, you will not need to do this because of their additional adhesive that performs the same function.
Attach your sheeting.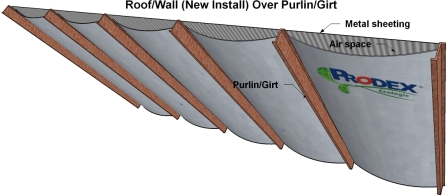 2. Existing Structure [Retrofitting] - Installing Insulation After the Sheeting
Insulating an existing metal building is known as retrofitting and it can refer to structures with or without prior insulation layers.
Use Prodex 10M, 48 Inch, Fast Action, 72 Inch, White, 24 Inch, 16 Inch or alternative insulation options such as Reflective Bubble Reflective or Foil Fiberglass Vinyl.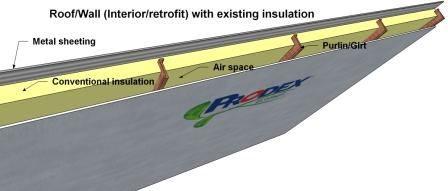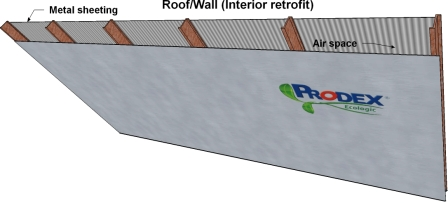 A. Tubular Framing:
Roll the insulation perpendicular to the frame member. The spacing between the framing does not matter because you're running the insulation the opposite direction.
Attached with self-drilling screws (3/4" screws with 1.5" self locking washers works well). Glue (use Super metal sealant) "1 x 2" or 1" x 4" wood with to the corners and eaves of the building. Screw the insulation to the wood.
Seal seams with reflective tape (10M and Fast Action don't require seam tape)
B. I-Beams - Options
1. Attaching Insulation to Sheeting with Pins
2. Run the double sided tape adjacent to a line of glue (super metal sealant) on the bottom of the I-beams. The tape serves as the short-term hold and the glue serves as a longer-term hold. This method may not be as secure as the other retrofit install methods provided. The concern is that given enough time, the insulation could separate from itself.
3. Frame out the inside of the building with wood studs. See how to insulate a pole barn
4. Attaching using straps (see video below)
To optimize performance, incorporate and air-gap of an inch or more and seal the seams. The method used to achieve the air-gap is less important. Why the air gap is important.
Why Buy Prodex Total?
Any metal building that uses fiberglass insulation rather than Prodex Total will have moisture issues (typically hidden behind facing), Loss of R-value (consequence of the moisture) and heat gain.
Prodex Total Insulation: One solution for Heat, Condensation and Cold. It combines the benefits of a radiant barrier, reflective insulation, and vapor barrier - All in one product!
A metal building insulation system requires a reflective insulation, radiant barrier and vapor barrier. The metal skin causes sweating (condensation), unbearable heat in summer and frigid temperatures in winter. Prodex serves a true vapor barrier and condensation eliminator. It has a high R-value and it's the number one performing radiant heat barrier. It's superior to fiberglass in metal buildings and pole barns because its R value is unaffected by humidity or water -- It doesn't mildew or promote fungus growth and it adds a radiant barrier to keep the building cool in the summer -- It doesn't promote nesting for rodents, bugs and birds. It is also much easier and less expensive to install. Unlike expensive spray foam insulation, Prodex Total prevents radiant heat transfer. It is superior bubble insulation in metal buildings because the heat of the metal skin doesn't cause its polyethylene micro-bubbles to collapse. Reflective aluminum foil on each side of a 5mm closed-cell polyethylene foam center.
Ever wonder why it's so hot and wet inside a metal building in the summer and so cold and wet in winter? The metal skin magnifies the heat of the summer and frigid temperatures of the winter. Metal is a very good conductor of heat and cold. In hot weather, metal framing and sheeting rapidly transfers the sun's heat into a building, and in cold weather it rapidly transfers the cold in. When a cold surface comes in contact with warm air it creates moisture on the surface (cold beer can outside in summer). Prodex eliminates the moisture (condensation) on the metal sheeting, it prevents the heat from entering your building in summer and leaving your building in winter!
You'll have a cool, dry structure in summer and a warm, dry structure in winter. It is used as a stand-alone or supplemental insulation. It is ICC-ES Recognized - It reflects 97% of radiant heat (the primary source of heat flow). Prodex works well in HOT and COLD climates. Other benefits of Prodex include sound deadening, sealing around nails, no promotion of mold or mildew, no nesting for rodents, birds, or bugs, easy installation and more.
Prodex Total Insulation: One solution for Heat, Condensation, Cold and Airflow. It combines the benefits of a radiant barrier, reflective insulation, and vapor barrier- All in one product!