Featured Reflective Insulation For Sale - Prodex Total


Prodex Difference: ICC-ES Recognized : R-Value unaffected by humidity : Prevents condensation : Prevents 97% of radiant heat transfer : Vapor barrier : Elastic : Does not promote mold or mildew : Does not provide for nesting of rodents, bugs or birds : Seals around nails (no leak) : Keeps its shape over time (doesn't collapse) : Rippled surface increases airflow : Over 5 billion square feet sold.
Cool In Summer - Warm In Winter - Dry All the Time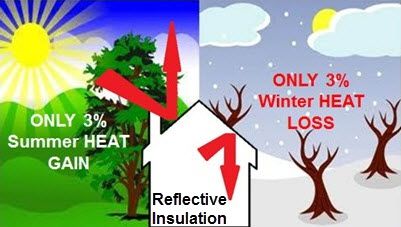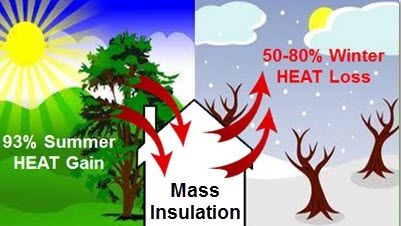 philbegley: Friday, April 10, 2015

Dear Insulation4Less,
I insulated a 40 year old steel building which had minimum 3 inch fiberglass under the steel. It is a difficult retro fit - this product worked well, easy, and gained at least six inches of dead air insulation. How well the reflective component works is hard to tell, but the light reflection inside is a great added benefit. The coldest part of the winter was over before I insulated. Still, the difference in the comfort and fuel use is dramatic.
TRY THIS EXPERIMENT:
Hold a sample of ALUMINUM FOIL close to your face, without touching. Soon you will feel the warmth of your infrared rays bouncing back from the SURFACE. The explanation: The emissivity of the heat radiation of your face is 99%. The absorption of the aluminum is only 5%. It sends back 95% of the rays. The absorption rate of your face is 99%. The net result is that you feel the warmth of your face reflected.
REFLECTIVITY AND AIR SPACES
In order to retard heat flow by conduction, walls and roofs are built with internal air spaces. Conduction and convection through these air spaces combined represents only 20% to 35% of the heat which passes through them. In both winter and summer, 65% to 85% of the heat that passes from a warm wall to a colder wall or through a ventilated attic does so by radiation.
The value of air spaces as thermal insulation must include the character of the enclosing surfaces. The surfaces greatly affect the amount of energy transferred by radiation, depending on the material's absorptivity and emissivity, and are the only way of modifying the heat transferred across a given space. The importance of radiation cannot be overlooked in problems involving ordinary room temperatures.
The following test results illustrate how heat transfer across a given air space may be modified. The distance between the hot and cold walls is 1 1/2" and the temperatures of the hot and cold surfaces are 212 degrees and 32 degrees respectively. In CASE 1, the enclosing walls are paper, wood, asbestos or other material. In CASE 2, the walls are lined with aluminum foil. In CASE 3, two sheets of aluminum are used to divide the enclosure into three 1/2" spaces.
Note: 65% (206) BTU's of the total BTU's going through the wall space is radiation.
*Note: Aluminum has 3% to 5% emissivity.
Reflection and emissivity by surfaces can ONLY occur in SPACE. The ideal space is any dimension 3/4" or more. Smaller spaces are also effective, but decreasingly so. Where there is no air space, we have conduction through solids. When a reflective surface of a material is attached to a ceiling, floor, or wall, that particular surface ceases to have radiant insulation value at the points of contact. Therefore, care must be exercised, when installing FOIL INSULATION, that it be stretched sufficiently to insure that any inner air spaces are properly opened up and that metal does not touch metal. Otherwise, conduction through materials can occur.