Did you know that properly insulating your home, including your attic, basement and floors, can save 15% of your heating and cooling costs?
Here, we will explain exactly how to insulate an attic, including finished vs. unfinished attics, plus share an equipment list, insulation tips and our recommendation for the best attic insulation.
Types of Attic Insulation
The most common types of attic insulation include blown-in fiberglass, spray foam, batt, structural insulated panels, loose-fill and reflective insulation.
Each type has different characteristics, advantages and disadvantages, which is why they also vary in terms of costs.
So how do you know which type to choose?
Your choice will likely come down to the type of attic that you will be insulating, along with your personal expectations, preferences and budget.We're happy to share our pick for the best type of insulation for your attic: Prodex.
Why Choose Prodex To Insulate Your Attic?
We recommend using Prodex to insulate your attic: a new-age, all-in-one insulation solution that provides numerous benefits.
The advantages of Prodex include:
It is highly resistant and durable due to its structure of closed-cell polyethylene FOAM center and reinforced foil
It radiates heat transfer as much as 97%, which is extremely important when you install attic insulation due to the proximity to the sun as a major heat source
It acts as an air and vapor barrier, is fire-resistant and provides an R-value that does not change as a result of compression or humidity
It prevents condensation and thus keeps your attic-stored possessions unaffected by mold and mildew and safe from rodents, bugs and birds that like to nest in humid and hot environments
It seals perfectly around nails and blocks leakage, which is extremely important for an attic space hit by the strong winds and rain
If you choose to insulate your attic, we recommend using Prodex 16 Inch, Prodex 24 Inch, Prodex 48 Inch, Fast Action, 72 Inch, 10M, and Prodex Perforated.
With R values ranging between 15.3 and 22, each type offers added protection from fire and tearing.
How do these Prodex types differ from one another?
Prodex 16 Inch, 24 Inch, 48 Inch, 72 Inch, Prodex Perforated and Prodex Fast Action have similar features, but the Fast Action type has an adhesive which serves to seal the seams.
Prodex Fast Action does not require the use of reflective tape and roofers report a 50% savings on installation time.
Prodex Total 10M Plus has a higher R-value and a thicker side foil compared to the types listed above. The cuts on the edges allow rolls to overlap. All you need is a hot air gun and some hand pressure to melt the polyethylene foam, and a welding cycle for strong waterproof sealing.
Insulating An Attic: Finished vs. Unfinished
If your attic is unfinished, you might be using it for storage. If it's finished, there's a good chance that you use it as an extra living space. Either way, insulation can go a long way in terms of temperature control, moisture control and more to help ensure the items in your attic don't get damaged.
However, the insulation process varies slightly from one to the other.
How To Insulate A Finished Attic
A finished attic typically has insulation between the ceiling rafters and exterior walls studs, to prevent heat from leaving your home through the roof and walls.
To improve temperature control, you can insulate your finished attic in several ways:
Add outside insulation when replacing your roof
Drill holes between the rafters and studs to blow in insulation
Remove paneling or drywall from the walls and ceiling, apply insulation between the wall studs and rafters and cover new panels or drywall
How To Insulate An Unfinished Attic
To insulate a finished attic, apply insulation between and over the floor joists and around the attic hatch and ductwork, if any.
If there is already some insulation applied you can enhance its performance by combining it with other insulation options.
Properly insulating your attic can help ensure better temperature and moisture control
How To Insulate An Attic: Equipment Checklist
Your attic equipment checklist is short and simple: reflective tape, a utility knife and a staple gun.
Reflective tape will help you secure the insulation layers in place. Effective in dry, hot and sub-zero conditions, it creates a vapor barrier to improve the insulation's effect. It is easy to use, resistant to sunlight and highly durable over time.
How To Insulate An Attic: Preparation And Installment Scenarios
Are you ready to insulate your attic? We'll walk you through the preparation stage, then cover several different scenarios.
The Preparation Stage
Consider your attic insulation project in its complexity.
Check with your state's energy authorities to see if there are incentives for insulating your attic.
If you have old insulation in place, check its condition to decide whether to keep or remove it. It can stay in place only if it is absolutely dry.
Remove any wet, compressed or moldy insulation.
If your house was built before 1990, check if the insulation layers contain asbestos (it would seem grainy, loose-looking and lightweight, with shiny flecks). If you are in doubt, call a professional company to test and remove it.
Measure the square footage in your attic.
Calculate the amount of insulation you need using an insulation calculator. If you decide to use loose-fill, consult the labels on the bags when purchasing to determine the quantity. If you use rolls or batts, use the width and length to calculate how much you will need.
Ensure the floor is stable by checking the joist stability. If there is plyboard installed, remove part of it to inspect the condition of the joists underneath. If your attic is finished, the size should be 2x8. If your attic is unfinished, the size may be 2x6 or 2x4. The boards should be less than 16 inches apart, measured between one joist center and the next one.
Ensure proper ventilation. If there is a ventilation system in place, do not cover the vents when applying insulation.
Seal air leaks to prevent home heat from escaping. Pay special attention to the areas around attic windows, around wires, pipes, ducts and exhaust fans as well as around chimneys or flues.
Fix any roof leaks you find to avoid moisture, which can lead to mold and mildew.
Pack the light fixtures to avoid fire hazard. Make sure there is a minimum three-inch safety gap around fixtures with scrap plywood or other materials.
Clean the attic to secure good visibility and healthy air.
The Installment Scenarios
Scenario 1: Attaching insulation to the bottom attic rafters — convenient for both new constructions and retrofitting
Recommended Prodex type: 48 Inch, Fast Action, 10M or 72 Inch.
Use reflective tape to bind seams.
If you want to avoid seam taping, choose 10M or Fast Action, which have an incorporated adhesive line on one side of the roll.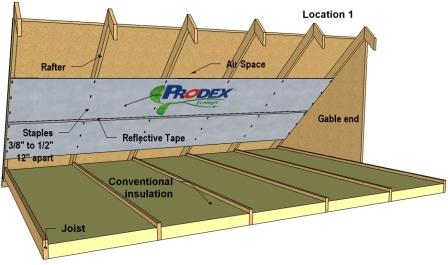 Scenario 2: Installing insulation between rafters
Recommended Prodex type: 24 Inch or 16 Inch.
Staple insulation edges to the side of the rafters.
Leave a two-inch air gap between Prodex and sheathing to increase insulation performance.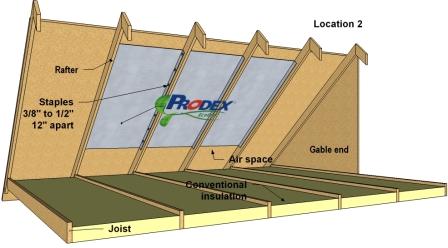 Scenario 3: Applying insulation to the attic floor
Recommended Prodex type: Prodex Perforated
Apply the new insulation on top of the existing insulation layers.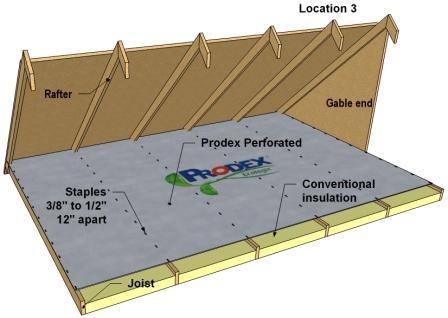 Scenario 4: Applying insulation during new house construction before the roof sheathing installment
Recommended Prodex type: Any Prodex Total type
Drape insulation over the rafters or trusses.
Make sure the insulation can drop a few inches between each rafter.
Use reflective tape to bind the seams.
If you are unwilling to seam tap, opt for 10M or Fast Action with an adhesive line.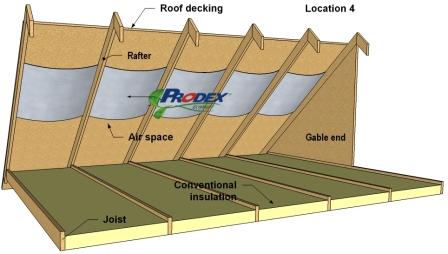 How Much Does It Cost To Insulate An Attic?
According to Home Advisor.com, the total cost of attic insulation can range from $1,500 to $3,500, which equals $1 to $7 per square foot on average, depending on the choice of material.
The cheapest insulation option is the blown-in type, while the most expensive includes structural insulation panels. Although costly, this ensures the highest energy efficiency and is recommended for new construction installment.
If your attic has already been insulated and you are considering replacing your insulation, this will cost between $2 and $8.50 per square foot, on average. Removing your old insulation may cost around $1 to $1.50 per square foot. Of course, the exact amount depends on the type of insulation you choose.
If you want to keep your existing insulation, check the condition — it needs to be absolutely dry to ensure there is no mold, mildew, bugs or rodents present.
If your existing insulation is in good condition, you can use blown-in insulation, spray foam or reflective insulation on top of the old layers.
If you hire a professional insulation company to do the work and have not cleaned and prepared the attic, you may be charged an additional $100 to $300 for cleaning costs.
Bonus: Attic Insulation Tips
Now that you know how to insulate an attic, here are some additional tips to help ensure you're prepared for all circumstances.
Wear a long-sleeved shirt if you are applying loose-fill insulation and tape your protection gloves to the edges of your sleeves — this will protect your skin from being irritated by the insulation fibers.
When you apply loose-fill insulation, use small hose movements to keep dust from rising to maintain good visibility.
If you add new blanket insulation layers to already existing ones, apply them perpendicularly to eliminate gaps.
If there are gaps between the blanket insulation edges, use thin strips to fill them.
Never stand on the joists to avoid crashing through the ceiling. Use a wide board or plywood spanning at least three joists to ensure stability.
Use a portable lantern or clip-on workshop lights to illuminate dark corners.
Work from the corners to the door to avoid stepping on already installed insulation.
Use Prodex to beat all potential attic problems in one: condensation, noise, summer heat, the sound of hail and rain, mold and mildew, and nesting of rodents, bugs and birds.
Considering Prodex? Check our best deals!